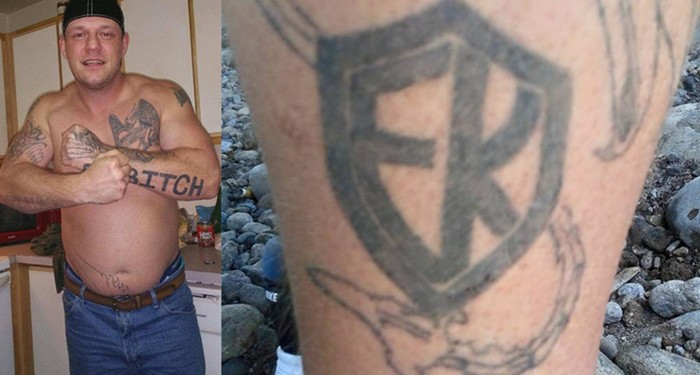 A defense attorney for Russell Courtier, a documented member of a white supremacist gang who admitted to mowing down a fleeing Black teenager last year, doesn't want a jury to know his client is a member of a white supremacist gang who admitted to mowing down the fleeing Black teenager, according to multiple motions filed in court Friday morning.

Courtier, a 39-year-old convicted felon and member of the European Kindred (EK) prison gang, is currently behind bars, awaiting trial for the August 2016 murder of Larnell Bruce, who was 19 when Courtier killed him after a late-night altercation at a 7-Eleven in Gresham. He's also charged with a hate crime—alleging that Bruce's murder was at least partially motived by race—and a felony driving charge.
Bruce was hit on August 10, 2016, and died in the hospital a few days later. Courtier and his girlfriend Colleen Hunt were arrested the night of the incident.
The Multnomah County District Attorney's Office will respond to Courtier's attorney's motions—arguing why the confession and white supremacist connections are, in fact, legally admissible—by November 3, and a judge will make a decision at a hearing scheduled for November 29. Courtier's trial, which has been pushed back a couple time so far, is scheduled (for now) to start February 20, 2018.
COURTIER'S ADMISSION
He admitted to Gresham detectives that he mowed Bruce down on purpose. According to the probable cause affidavit for his arrest, "Mr. Courtier said he chased the black male across oncoming lanes of traffic and then intentionally struck him with the front of his vehicle." He'd later mention it in a series of recorded jailhouse phone calls, according to a motion filed by his attorney today.
Courtier's attorney, Kevin Sali, wants those admissions tossed and kept out of his trial, according to a motion he filed in the Multnomah County Circuit Court today.
Sali, who declined to comment to the Mercury this afternoon, claims Gresham Detective Aaron Turnage impermissibly pressed Courtier to talk in the interrogation room after the accused killer said "I can't can't tell you guys anything" and "I have to talk to to my lawyer first," according to the filing.
Turnage then mentions he'll probably be charged with attempted murder (Bruce hadn't died yet) and "so that's why I wanna get your side of the story." Hours later, after Turnage told him Bruce was likely to die and "at at any point in the future if you decide you wanna talk" that he should let him know. "Talk to me with your lawyer. I'll give you my information and we can have a discussion."
That's when Courtier decided to talk—without a lawyer—admitting to the incident in a video-recorded interrogation, the filing says. Courtier then made phone calls, which were recorded in the jail, at one point telling someone "I talked to the detective... so there's really nothing to hide."
That interrogation and recorded phone call should be suppressed, Sali argues, because Courtier at first invoked his Miranda rights.
"This continued interrogation violated both the Oregon and United States Constitution," the filing says. "All resulting statements by Mr. Courtier, and all evidence derived from those statements, must therefore be suppressed."
Turnage, the Gresham detective, did not respond to a voice message this afternoon. Multnomah County Deputy District Attorney David Hannon, who's prosecuting the case against Courtier, declined to respond to the motion for this story, citing policy not to comment on open cases.
EUROPEAN KINDRED
As the Mercury first reported last August using extensive prison discipline records, Courtier has been a member of the European Kindred white supremacist prison gang since at least 2003, when he was locked up at the Eastern Oregon Correctional Institution in Pendleton.
He has the EK logo tattooed on his leg. He was wearing a hat with an EK logo on it the night he killed Bruce.
After the Mercury's story came out, Courtier was indicted on additional hate crime charges—intimidation in the first degree and intimidation in the second degree—alleging he killed Bruce because of his race.
Sali wants a court order "exuding all evidence relating to his alleged association with any racially affiliated or racially motivated group, including but not limited to the European Kindred, and all evidence relating to any alleged racial animus, views or beliefs of the Defendant's."
Sali says, as pretty much any defense attorney in his position would, that race didn't play a role in the killing.
Despite that Courtier was a longtime member of a white supremacist gang, and that he wore a hat with his gang's logo on it when he killed Bruce, Sali says "there is no direct evidence that Mr. Courtier bore any animus towards any particular racial group." (We reported last August that, while in prison, Courtier instigated a white vs. Black inmate brawl.)
"And even if there was evidence that Mr. Courtier himself shared at least some alleged EK beliefs—for example, a belief in the superiority of the white race, or a desire to advance that race's interests as against the interests of others—that would not establish that he bore the type of animus towards minorities that would support the use of the challenged evidence to prove motive or intent," Sali writes.
Prosecutors will be filing a response to the the motions to suppress evidence in the coming days, and a judge will decide what can be brought up at trial this February.
Check out our coverage on Russell Courtier so far:
•August 31, 2016: "A Black Teen Was Run Down in Gresham. His Killer is in a Notorious Oregon White Supremacist Gang"
•September 13, 2016: "New Hate Crime Indictment For The White Supremacist Charged In Black Teen's Murder in Gresham"
•October 26, 2016: "Prosecutors Say the Racist Who Ran Down Larnell Bruce 'Cannot Be Rehabilitated.' He was Let Off the Hook for a Violent Assault Just last Year."
•November 23, 2016 : "Russell Courtier, The White Supremacist Accused of Killing Larnell Bruce, Indicted for 2015 Assault"