For the second time in league history, the Portland Thorns are the National Women's Soccer League Champions!
GLITTER CANNONS TO THE FACE! THE LADIES IN RED MADE IT HAPPEN!
The Thorns defeated the North Carolina Courage 1-0 in a scrappy tappy final matchy on Saturday in luxurious and sweltering Orlando Florida.
THORNADO WARNING
Look, this wasn't the prettiest game to watch. It was scrappy, rough, and frazzled. This game was a hot-headed mash-up of determination, frustration, and at times some good ol' fashion hateration. Trust me, it was a total heart pounding nerve-buster to watch! SOMEBODY BRING MAMA AN ATIVAN—MY NERVES ARE FRIED!
Only two minutes into the match, Portland midfielder Tobin Heath CLOBBERED North Carolina's Taylor Smith, totally running her over. Smith eventually had to leave the match due to her injury and Heath earned a yellow card. This early collision set the tone for the entire match. The referee never had control and, while I love a tough-fought game, this match was erratic and totally out of 2017 Thorns character. Sure, I've seen the Thorns play aggressive soccer, but this looked like a full-on street fight. KARATE CHOP! That intense connection between Portland players that we took such joy in watching this year was completely absent. I thought for sure things would settle down after the first 10 or so minutes went by BUT BIG SURPRISE, I WAS WRONG.

I'm not a huge fan of this kung fu soccer stuff but in the end, it worked well enough to win. Last year, when the Thorns lost to the Western New York Flash in the semifinal—the same team and coach that essentially evolved into the Courage—the Thorns were the team left on the field dejected and beat up. This year Thorns seemed set on dictating the tone from the get-go of the match.
ACTIVATE TEAM THORNADO!
It would appear that the team and staff looked long and hard at that last semifinal match, made adjustments, and found an absolute resolve to control this match from the start and eventually win.
Portland ended the match with nine fouls and three yellow cards (Heath, Raso, and Brynjarsdottir) and the Courage only had 9 fouls and zero caution cards. GULP! The Courage also outshot the Thorns 16:4 in addition to possessing the ball more than Portland. It was anybody's game BUT SOMEONE HAD TO WIN IT!
The Courage had several opportunities in front of the goal and kept the Thorns defense busy. Thorns goalie, AD Franch, Emily Sonnett, and Emily Menges worked tirelessly to stave off goal after goal in the backfield. North Carolina's Lynn Williams, McCall Zerboni, and Jessica McDonald were consistent threats with well-placed free kicks, corners, and quick drives. Most notable defensive work was done by Portland defender Emily Menges. She SHUT THINGS DOWN with a sliding block right in front of the goal when Courage midfielder Sam Mewis did a couple of fancy mixtape moves to try to sneak one in. SORRY, WE'RE CLOSED PLEASE COME AGAIN. (OR NOT)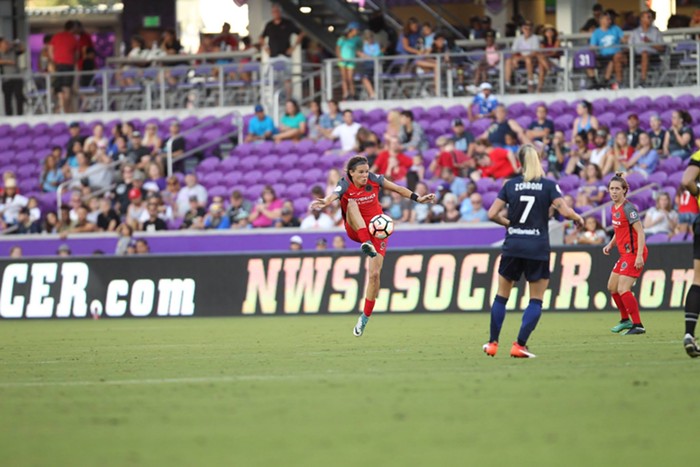 The game-deciding goal was scored by Lindsay Horan in the 49th minute after Sonnett sailed a
BEAUTY BALL™
in from near midfield. Horan's lack of hesitance and willingness to take chances found her fifth goal this season as well as the MVP of the match. HIP HIP HORAN!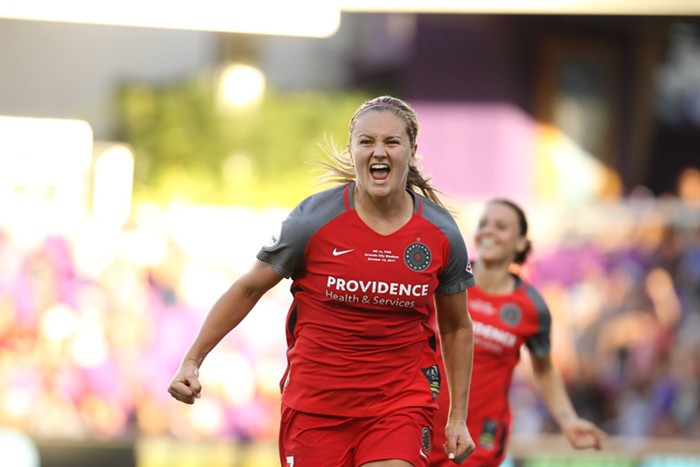 WHY AM I HERE?
The game was tough to watch for reasons stated above but also, remember, this game was played in the Devil's butt crack. It was so freaking hot... not to complain about obvious things but
COME ON ORLANDO
are you kidding me with this heat? And don't tell me, "
It's not the heat, it's the humidity."
I KNOW HOW WEATHER WORKS, I AM FROM THE SOUTH.
And you know what? It IS the heat AND it's the humidity—working together to create a tropical hell that no one should ever have to wear pants in. It is oppressive and my hair won't do right and if I wear makeup I feel like my face is sweating glue. I hate it. I hate it. I hate it. (stomps feet and crosses arms) And I don't know why on earth the NWSL made us go all the way out there to play this match. Near the end of the match, this fella came into the press box TWICE to proudly announce that 8,124 people were in attendance.
SO FREAKING WHAT?
Excuse my eye roll, but if this match was played in either North Carolina or Portland, it would have sold at least 20 thousand tickets.
But we have to play somewhere neutral! You can't have home field advantage!
Bullshit, this league is barely hanging on, stop punishing the teams that are thriving and give us what we want. Teams like the Thorns and Courage are carrying other, less supported teams on their backs.
I AM CRANKY WHEN I AM HOT.
OFFENSIVE LINES
The Courage brought along a fan base that loved to cheer and sing JUST LIKE OUR RIVETERS! But when Tobin Heath took her time getting up from a tumble, North Carolina`s fans proceeded to yell "Fuck You Portland." TACKY! But wait, that's not the offensive part. According to Twitter, stadium staff let the North Carolina Courage fans know that even though that was okay language for MLS games, it would not be tolerated for NWSL games. WHAT IS HAPPENING? That's ridiculous and also the exact reason I love Twitter. Do I want people to yell "Fuck you Portland"? NOT REALLY, I would hope someone could come up with something a little more creative. Maybe something with a pop music reference—AT LEAST RHYME PEOPLE. But a load of hot Florida BULLSHIT.
THE THORNLANDO EXPERIENCE
I had absolutely no plans to go to Florida for the match until a good friend and fellow soccer enthusiast @Zippytimbers brought it up after the semifinal win against the Pride. And just like that, a friend named Zippy became my SUPER BRO. CHAMPAGNE AND SCAMPI!

I sweated so much I had self-hate. As you may have gathered, I could not handle it. Don't get me wrong, Orlando is beautiful and it was amazing to just happen to be there during Pride weekend. We found great restaurants and bars and local beers and got Orlando drunk and made new friends. And while I enjoyed walking around Lake Eola and checking out their Pride Festival that was so carefully and colorfully set up, all I could think about is
HOW MUCH LONGER UNTIL I CAN TAKE THESE PANTS OFF.
Sure, I wouldn't have been the only person walking around without pants. But I felt tied to my choice of attire and that I needed to stick to the plan.
THE PLAN OF WEARING PANTS.
We had a blast quietly judging locals and talking about how Portland has better food, people, and WEATHER. We even shared a room at quite possibly the seediest hotel I've ever stayed in. But we didn't go to Orlando for the black mold, the broken wifi, and questionable stains on "clean towels." We went to watch our Portland Thorns win another star.
STAY FOCUSED AND WEAR PANTS.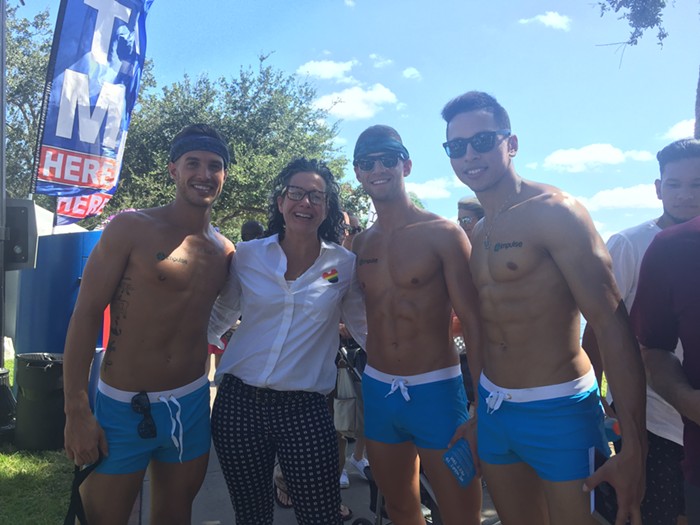 It was great to be in the stadium when the final whistle blew. I'm grateful I got to watch the game in the air-conditioned press box. But after the game I got more emotional than I anticipated. I didn't want to cry with strangers from other parts of the country—I want to cry with strangers that wear multiple scarves while broiling in the unrelenting heat. So with shaky hands and a pounding heart, I rushed down to join the Riveters. Thankfully
@dendy
hooked me up with a real ticket, so I could join the rest of the party. I don't even know this person, I just tweeted out that I needed a ticket and then she totally came through. THANK YOU! I stood with strangers that kind of looked familiar and I screamed until I cried again. It felt ridiculous to be so emotional over a sporting event. But we were all so invested and together. The rest of the world is burning but at that moment, hard work paid off and our team won. There's something about this team that really makes fans feel part of the process. I'm sure it has a lot to do with the individuals that are playing on the field and their stories. But there's also a team of pros keeping us informed, sharing amazing photographs, creating a well thought out fan experience for match days, etc. It's amazing what this club has accomplished and how they have tied their laces to the hearts of so many mighty and undoubtedly sun-stroked supporters.
The players came through the barricade, crawled between the railings and joined fans for pictures, high fives, a couple of songs, and even passed the trophy around for all of us to hold. It was everything all at once and it was so much fun.
BUT THEN IT GOT BETTER
The entire group of supporters made their way to a bar downtown to drink in the cool air-conditioned darkness and rejoice in the victory. Merritt Paulson sent a team representative by with his credit card, slapped it onto the bar and announced, "Tonight is on Merritt." For real. Free drinks for everyone—for the night.

BUT THEN THINGS GOT WEIRD
I took my pants off. NOPE, Just kidding, I just got Orlando drunk, ate a hot dog from a questionable street vendor, took a Lyft back to the hotel, and dreamed about soccer and a pterodactyl that had lipstick on, and we were in the back seat of an Astro van, and everything was moving really slow....
Thanks for another CAPS LOCK BOLD TYPEFACE SEASON. The Portland Thorns and their supporters are the absolute best.
RCTID