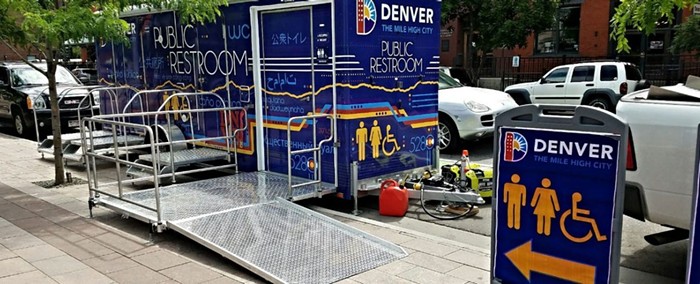 Step aside food carts, public restrooms might become the latest Portland sensation on wheels.
Backing up a hint he dropped in a recent press conference, Mayor Ted Wheeler is mulling spending nearly $160,000 to purchase and operate two mobile restroom trailers meant to serve homeless people living in the Central Eastside and the Lents neighborhood, the Mercury has learned. The six-month pilot project, dubbed "PDX Pit Stops," showed up in a last-minute request Wheeler's office filed as part of the upcoming budget monitoring process (BMP, or "bump"), where officials are preparing to dole out around $12 million in surplus cash from last year.
"We'd like them to go to high-traffic, low-facility areas (think Central Eastside)," Wheeler spokesperson Michael Cox tells the Mercury.
According to a program proposal [PDF] subsequently supplied by the mayor's office, the restrooms would be operated and staffed by Central City Concern—a move similar to a pilot program that provided day storage for the homeless under former Mayor Charlie Hales.
"Neighborhoods in Southeast Portland have high populations of individuals experiencing homelessness," reads the proposal, noting the city frequently gets complaints about human waste "on sidewalks, in city parks and natural areas, and even on private property."
"Lack of restroom facilities compromises an already vulnerable homeless community, and threatens the health, safety, and livability of our neighborhoods," the document reads.
Under the pilot project, the city would purchase two, 16-foot trailers, containing three stalls apiece. The trailers would be supplied with hot water for hand washing, disposal containers for used needles, and trash collection, and be available from 7 am to 3 pm, Thursday through Monday.
"The restroom trailers would be driven to a specific location every morning, cleaned on site, and then transported and stored at a lock facility daily," the proposal reads. City officials say the six-month pilot would cost $158,953, between purchasing the trailers and paying for operations.
Wheeler's office slipped in a $100,000 request to help fund the project as part of a last-minute "supplemental" ask, filed after the deadline had already passed for bureaus to ask for BMP money. Such late requests typically signal that a councilmember's office is keen on prioritizing a project, but Cox says Wheeler's not necessarily set on making the "Pit Stops" program happen right away.
"I would describe our posture on this as very interested in the concept," Cox says, noting there are competing priorities for roughly $8.4 million the city has to play with as part of the BMP (along with millions more required to be spent on city infrastructure maintenance). "We can also get creative on financing."
Wheeler first hinted at the restroom program a couple weeks ago, at a press conference he convened to defend and explain the city's recent response to the homelessness crisis. At the time, Wheeler suggested he'd ask business groups like the Portland Business Alliance (PBA) to step up with funding for bathrooms, along with mobile laundry and shower services.
"I would like to see some of these pilot projects paid for by the private sector," Wheeler said at the time. "In other communities, the business community supports these kinds of efforts." (A PBA official on hand at the press conference was noncommittal.)
About those other communities: San Francisco, Sacramento, and Denver have all pursued similar projects (frequently also calling them "pit stop"). Sacramento scrapped its program after six months, citing cost overruns (city staff are keen to point out that Portland's program would be run differently—using CCC workers rather than Portland employees).
Portland, of course, has already sought to partly address the need for public restrooms with its Portland Loos. The city's seven loos are all west of the Willamette River, though.