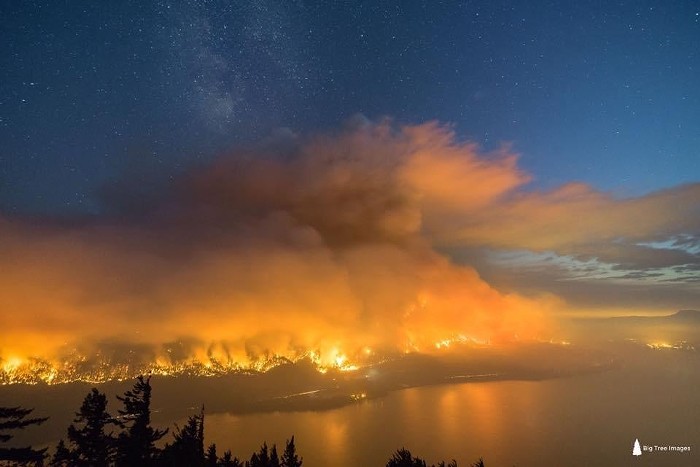 The 15-year-old Vancouver boy accused of chucking fireworks in the Columbia River Gorge and starting the the massive Eagle Creek Fire last month has been charged in Hood River County. The fire, which started on September 2, has devastated nearly 50,000 acres in the region so far, and its impact will be felt for years to come.
The unnamed kid was arraigned in juvenile court on charges of reckless burning, depositing burning materials on forest lands, unlawful possession of fireworks, criminal mischief, and recklessly endangering other persons, according to a press release today from the Oregon State Police on behalf of the Hood River County District Attorney's Office.
Here's the full statement:

When the Eagle Creek fire erupted a criminal investigation was immediately begun by the Oregon State Police. US Forest Service investigators have been assisting the State Police in this ongoing investigation. As a result of the investigation legal proceedings have been commenced in the Hood River County Circuit Court. A fifteen year old boy recently appeared and was arraigned on a Juvenile Court Petition.

Allegations in the Petition include acts of Reckless Burning, Depositing Burning Materials on Forest Lands, Unlawful Possession of Fireworks, Criminal Mischief and Recklessly Endangering Other Persons. The charging petition was filed by the Hood River County Juvenile Department at the direction of the Hood River County District Attorney John Sewell. The Hood River County District Attorney's office has been acting in cooperation with the Multnomah County District Attorney's office. Although extensive damage caused by the wildfire occurred in both Hood River and Multnomah Counties, Oregon's juvenile code dictates that legal proceedings be commenced in the county where the illegal act originally occurred, which is Hood River County.

The District Attorney's office, the Oregon State Police and the Hood River County Juvenile Department will have no further comment until the case has been resolved.
A woman who witnessed the start of the fire told the Mercury last month during the early stages of blaze, as the city and region were overtaken by smoke and ash, that she was hiking the trail when she came upon "a group of about maybe a dozen people. It felt like at least 7-8 of them were" between the ages of 15-17. After a tough part on the trail, she said she spotted a teen lighting and tossing a "spherical smoke bomb" down the mountainside. Here's what she told us:
It was silent. It did not give off a loud bang. He just lobbed it, like you're throwing a piece of paper into the garbage can. I saw him do it. I saw his friend videotaping it. It was a group of guys and girls. I feel like I heard a 'heh heh' kind of thing from someone.

I said, "Do you realize how dangerous that is?" They all just looked at me. I said, "There's a fire raging up at mile three. This whole place is so dry." They didn't say anything and they kept walking down the hill. I looked and saw smoke, but I thought it was just the trail from the smoke from the smoke bomb.

I thought, "I'm probably just making a big deal out of this." I didn't think it's going to immediately ignite the fire. Very shortly after, about two minutes later, this voice said to me, "You know, Liz, you'd feel like an idiot if you got stuck in a forest fire because you didn't turn around."
Later, she said she came cross two other hikers heading out:

They say, "We just saw teenagers throwing some fireworks at Punch Bowl. We're headed down to rat them out." I turned around and started running down. I came upon the spot [where the smoke bomb was thrown] and saw that it was billowing smoke.

I wanted to run and do what I could. I wanted to get the kids, too. I had so much adrenaline. You don't know that trail. It's treacherous and its rocky.
And then she came across the pack of kids:

At that point it was just a smaller group. It was not that huge group. They were walking very casually down the hill. I said [to the teen who'd videotaped the smoke bomb incident], "Do you realize you just started a forest fire?" He said "What are we supposed to do about it now?" I said, "Call the fricking fire department!"
She ran to the parking lot and found a US Forest Service officer, she said.

I said, "I need to report a fire. I saw smoke. I saw the kids throw the firework."... I said, "Do you mind if we actually get to the trailhead? I'd hate for them to be able to get in a car and just drive away."

[While headed to the trail] I saw a minivan drive by. I saw the look on the girl's face in the passenger seat. She looked as though she was part of an exciting adventure.
A bystander recorded video of what seems to be authorities questioning the teens.