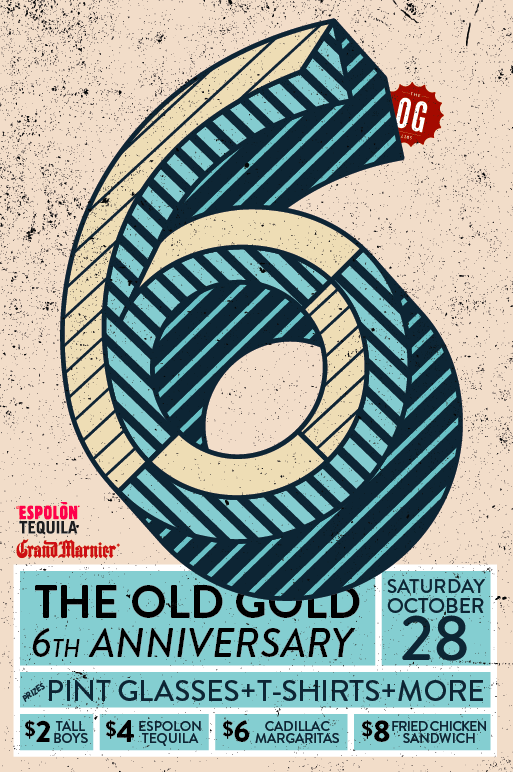 The Old Gold bar is turning six years old this month its owner, Ezra Caraeff, tells the Mercury. (Full disclaimer: Before he became a restaurateur, Caraeff wrote for the Merc when he was fresh out of J-school.)
The celebration goes down on Saturday, October 28 at its Overlook digs. Expect free Old Gold T-shirts, pint glasses, and enamel pins, as well as food and drink discounts, including $2 tall boys, $4 tequila shots, and $6 margaritas.
Caraeff is also the proprietor of the bar Paydirt, located over in the Kerns neighborhood and Woodlawn's Tough Luck bar.
But Caraeff's not the only person throwing a party this month. The following day, Sunday, October 29, the folks behind Rally Pizza and Smokehouse Provisions are having a block party over at The Mill in Vancouver, from noon to 5 pm. Dress your kids up and watch them tire themselves out jumping up and down in a bouncy house while enjoying pizza and barbecue specials.
And don't forget to shoot some photos of Rojo the Llama, who'll be on property for precisely that purpose.
And that's not all. Next month on Friday, November 24, Jackrabbit chef Chris DiMinno is throwing a Gospel Brunch at celebrity chef Chris Cosentino's downtown restaurant at 830 SW Sixth.
The menu will consist of Southern-inspired specials, but the real show will come courtesy of Julianne R. Johnson, a Grammy-nominated songwriter and singer who'll be on hand to belt out numbers backed by keyboardist Mark Hardy and the choral group Inspiration Ensemble of the Vancouver Avenue First Baptist Church of Portland.
There will be two seatings at 11 am and 1 pm, with tickets going for $59 a pop.