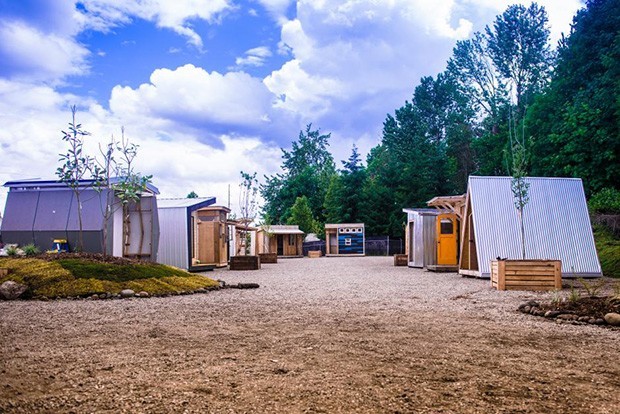 A number of residents in North Portland's Piedmont Neighborhood are looking to slap a new label on any property owner who helps a homeless camp or shelter to spring up without a formal okay from nearby residents: "bad neighbor."
Under a controversial new bylaw that appears likely come up at a Piedmont Neighborhood Association (PNA) meeting on Thursday evening, the PNA would be "forbidden from cooperating" with such a neighbor for at least five years.
No one's proposed a camp or shelter in Piedmont, but that hasn't stopped fierce debate in a neighborhood with long-standing tensions. The bylaw proposal has people on both sides of the issue rallying residents to attend Thursday's meeting to vote on the rule, and has the PNA's board chair vowing to step down if it passes.
The rules "are intended to restrict all services to the houseless and disenfranchise neighbors that aren't in traditional housing," argues Noah Brimhall, a Piedmont resident and past board member who opposes adding the bylaw.
Ryan McCarthy, a chief proponent, says the proposal is simply meant to give people living near potential projects a voice. "We want a situation whereby the people who are going to actually live with the camps are going to be the ones who actually have their say," McCarthy says.
Under the rule McCarthy and others are pushing, the PNA's board couldn't endorse or negotiate with any "proposed homeless camp, shelter, or service of any sort to be located within or adjacent to Piedmont" unless the people proposing the project gathered enough signatures from neighbors within a quarter mile of it to outweigh a petition in opposition. If "any landowner, public utility, public works department, or transportation company" agrees to host a camp without submitting the petition, the rule says they'll be dubbed a "bad neighbor." The PNA board would be banned from cooperating with them for "five years or ten times the amount of time that such a camp exists in Piedmont, whichever is longer."
Current board members oppose the suggestion, PNA Board Chair Jan De Leeuw said in an email Tuesday, adding: "I will step down if the membership votes to include it."
The Office of Neighborhood Involvement (ONI) says it's aware of the proposal—and reserving judgment.
"At this time, it is not clear what changes formally will be presented to the Piedmont Neighborhood Association," says Paul Leistner, ONI's neighborhood program coordinator. "It's also unclear whether Piedmont NA members would vote to support changes or requirements that might be proposed."
Leistner says ONI's "happy to review any questions or concerns community members have" if neighbors vote to enact the new bylaws on Thursday."
Piedmont's just the latest Portland neighborhood to experience turmoil as the city grapples with a growing homeless population.
In August, the Overlook Neighborhood Association (OKNA) was prepared to vote on a new bylaw that would prevent houseless residents of the neighborhood from having a voice in meetings. ONI sent a letter to the association, threatening to cease formally recognizing OKNA if it moved forward.
According to Leistner, the proposed rule in Piedmont doesn't raise the same concerns. De Leeuw, the board chair, disagrees.
"I would say the articles are obviously discriminatory against people whose housing situation is 'homeless', and thus it violates our anti-discrimination clause," he says. "There are no similar restrictions proposed for community housing, or for any other form of commercial or residential development."
In Southeast Portland, the board of the Montavilla Neighborhood Association earlier this year passed a resolution asking Mayor Ted Wheeler to cease homeless sweeps within the neighborhood's boundaries. The vote didn't influence city activity, but did cause a lot of drama in Montavilla.
Kenton's neighborhood association took an extraordinary step this year, voting to support the creation of a tiny-house village for homeless women. The vote was merely advisory, but helped pave the way for the Kenton Women's Village.
The Piedmont proposal is also set against the backdrop of a new city policy. Earlier this month, Commissioner Chloe Eudaly, who oversees the city's code enforcers, announced she'd largely ignore enforcement against tiny houses and RVs parked on private property (limited to one per house or duplex, and three per commercial property or religious institution).
Perhaps most relevant to the debate in Piedmont, though, is a long-simmering divide between its residents.
McCarthy and his supporters live in an area of the neighborhood known as Loveleigh, which is sandwiched between North/Northeast Lombard and the Union Pacific railroad tracks. It's small, full of dead-end streets, and no stranger to homelessness and drug use.
As McCarthy puts it: "We're not the folks in their $800,000 houses overlooking the fountain of Peninsula Park. We're the marginalized folks by the train tracks."
According to Brimhall, De Leeuw, and McCarthy, the current squabble began in August. On an email thread, De Leeuw raised the possibility the City of Portland would ask individual neighborhoods to recommend plots of land that might be used for homeless camps—an idea that's been raised in the past. De Leeuw mentioned a city-owned parcel where North Vancouver crosses the railroad tracks.
"I thought for a moment about the area under the bridge, if it can be leveled and secured in some way or another," De Leeuw wrote at the time.
It reads as a fairly offhand suggestion, but McCarthy and other Loveleigh residents who live near the bridge saw it as an attack.
"They thought, 'Hey we'll just be able to throw this out there and those people down by the railroad tracks won't care,'" McCarthy says.
So McCarthy and others circulated a petition to oppose any placement of a camp near the bridge (though one hadn't been proposed). McCarthy also wrote up the bylaws, which he's planning to introduce for consideration at the PNA board meeting on Thursday. It's at 7 pm, at 5940 N Albina.
What's not entirely clear about the proposal is how it advances McCarthy's aims. As Brimhall points out, ceasing cooperation with an entity that's planning a homeless camp would merely ensure the PNA has no voice in how that camp develops. Other neighborhood associations have been keen on developing "good-neighbor agreements" with organized camps or shelters.
McCarthy acknowledges this, but believes that someone might think twice about crossing the neighborhood association if, say, they were relying on the PNA's recommendation while seeking a land-use change in the future.
"If you impose this on us… then why should we help you with your land-use case the next time you want to expand, the next time you want to pull zoning permits?" he says.