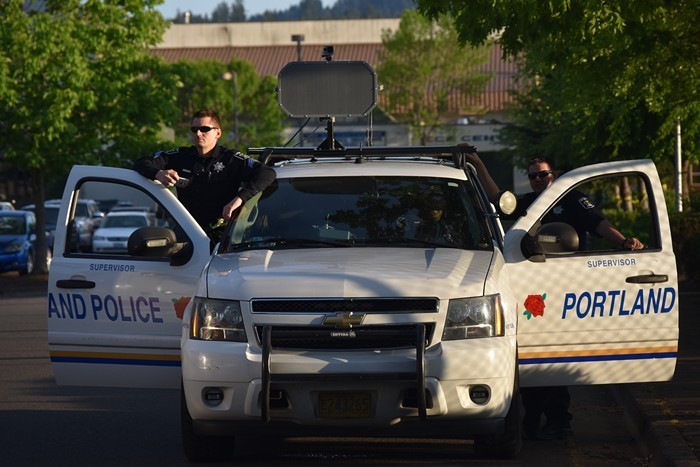 A Portland Police Bureau (PPB) officer shot a man that they say was a bank robbery suspect on Tuesday afternoon in North Portland.
Officer Ryan Reagan—a 19-year PPB veteran—shot, but didn't kill, the still-publicly unidentified 25-year-old man shortly after a robbery at the U.S. Bank on North Lombard around 1:30 pm yesterday. It was shortly after police responded to robbery at a nearby check cashing business by someone matching the same description as the bank robber: a Black male in his 20s, wearing a dark baseball hat, and dark clothes.
The man was unarmed when he was shot, the police note, and the guy didn't show any weapons during the robberies. The PPB said in both robberies, the "suspect entered the location, demanded money, produced a note, obtained and undisclosed amount of cash and left the locations."
When the two responding cops—Reagan and his partner—found the guy deemed to be the suspect, police say they stood 50 to 60 away from him while ordering him to put his hands in the air.
"The suspect did not follow the officers' commands, turned towards the officers and advanced towards them as he reached into his pocket," the cops say today. Reagan fired "multiple" times at the man. The police don't say how many times the guy the got shot. But he survived and was transported to the hospital.
The PPB said they won't release the guy's name until he's released from the hospital and booked in jail.
This is the second time in two months that a Portland police officer shot, but did not kill, a bank robbery suspect (see: "Portland Police Shoot Person During Attempted Traffic Stop"). It also marks the first police shooting since Danielle Outlaw took over as police chief earlier this month.