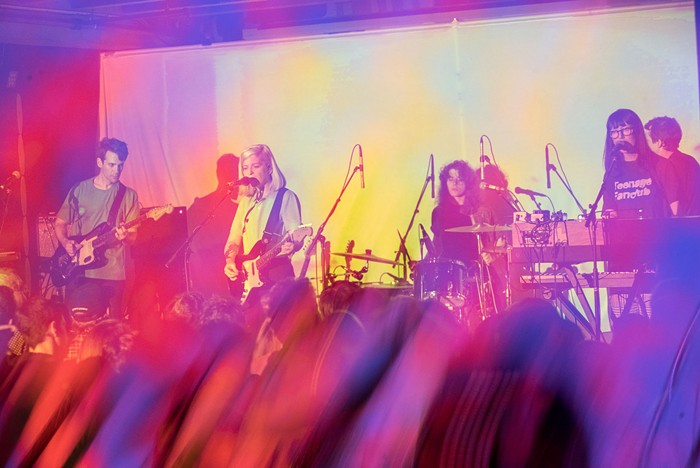 There's a fine line between being a no-nonsense live band and seeming disinterested in performing and disconnected from your audience. Alvvays walks that line expertly.
The Canadian indie-pop band isn't stone-faced onstage, but they're not exactly effusive, either. They go about their business: playing songs, cracking a couple of jokes, thanking the crowd. But Alvvays—particularly frontwoman Molly Rankin and guitarist Alec O'Hanley—inject just enough goofy, sarcastic charm to keep things fun. And if showmanship isn't really your band's thing, it helps to have killer songs to carry the show. Last Friday at the Doug Fir, the band cranked through most of those killer songs in workmanlike fashion, keeping the sold-out crowd bouncing and happy.
I'm a big believer that Alvvays' self-titled 2014 debut is a near-perfect palette of jangling, mid-tempo indie-pop smeared with a pastel melancholic haze. I also think the band's new one, Antisocialites, is even better, largely because it's infused with a punky spirit and moves at a quicker pace.
Those quicker, punkier songs were highlights Friday night, too. They band came out and plunged right into "Hey," replacing some of the recorded version's jagged noise with a more strident, almost krautrock pulse. Antisocialites standout "Lollipop (Ode to Jim)" started off in a frenzy before settling into its serrated groove. "Saved by a Waif" subverted the band's pop reputation with a tangle of sounds that seemed to be devouring each other. And "Your Type" raged as hard as an indie-pop band can rage. Rankin's eyes twinkled playfully as she spit out the song's cutting chorus: "You will never be all right/I will never be your type."
She channeled the same defiant vibe for "Not My Baby," another sparkling high point on the new album. The band's beat may have slowed slightly for songs like "Archie, Marry Me," "The Agency Group," and "Party Police"—all pillars of the debut—but they played them perfectly. On the latter, stoic keyboardist Kerri MacLellan played a line that sliced through the din, adding lovely texture to the wall of guitars, drums, and bass.
Only once did Alvvays switch things up significantly, with Rankin handing her guitar to bassist Brian Murphy for Antisocialites' closing track, "Forget About Life," a short ballad that blooms into a lush cloud of candy-colored shoegaze. It was a nice change of pace, and it was over quickly, with Murphy handing the guitar back to Rankin before the song's final synth swell had even faded out, letting Alvvays get back to doing what they've always done best.