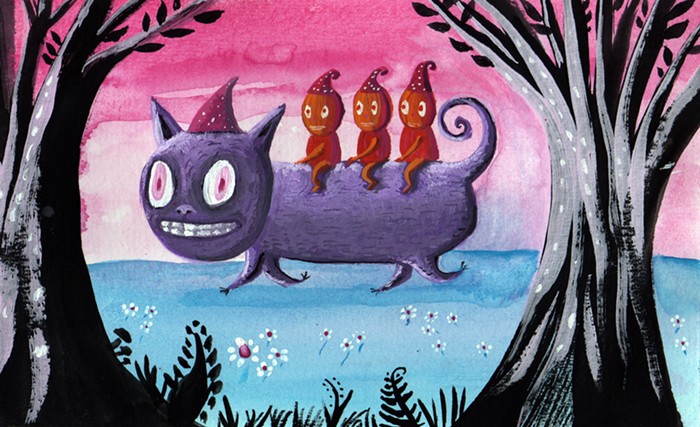 HAPPY HALLOWEEN, BLOGTOWN!
The White House and Donald Trump had a lot to say Monday about how the charges against former campaign chairman Paul Manafort have nothing to do with Donald Trump. Not quite as much to say about the guilty plea from a former campaign official who was trying to work with Russia.
Then came this morning's tweets.
Behind the scenes: The Washington Post reports White House staffers are rattled by yesterday's events. No one knows what's coming next. Especially Michael Flynn.
Bonus: Slate asks how Manafort could possibly have spent nearly $1 million on rugs.
(And by the way, Russian meddling into last year's election reached more than 125 million people on Facebook.)
GOOD NEWS: Trump's attempt to prevent transgender citizens from serving in the military is on ice. "U.S. District Judge Colleen Kollar-Kotelly ruled that the transgender service members who had sued over Trump's policy were likely to win their lawsuit. She directed a return to the situation that existed before Trump announced his new policy this summer, saying the administration had provided no solid evidence for why a ban should be implemented."
I CAN'T DRIVE, $265: West Linn lawmaker Julie Parrish supported the state's new distracted driving law. Then she drove distractedly and got a ticket while heading to KATU. That'll be $265.
A garbage truck driver who was trying to "beat a train" and turned in front of a cyclist in August, killing her, won't face criminal charges, according to a memo released by prosecutors yesterday. Prosecutors say the victim, Tamar Monhait, wasn't "wearing bright clothing and her bicycle wasn't illuminated by a front light," the O reports, and had a blood-alcohol level above the legal limit. She was also traveling at an appropriate speed, in a bike lane. The involved driver hasn't been ticketed for turning in front of her.
WATER NEWS CORNER: We've found cryptosporidium in the water supply yet again. And since it's going to keep raining in the Portland area, you can probably expect me to write that a lot more in coming months.
And Gov. Kate Brown's finally decided Nestle shouldn't be able to bottle water from the Columbia River Gorge. That took long enough.
OPB has rolled out of a years-long investigation into a Salem school for Native American youth. Here's the first installment, which insinuates supports at the school are lacking, and lead to tragic outcomes.
City Commissioner Nick Fish's brother, publisher of the New Republic, is on forced leave following accusations that he "created an uncomfortable environment" for a number of female employees.
Now, onto real business: