This was without a doubt the worst Blazers game all season. Hopefully it will retain that title until spring. The Blazers turned in the most disastrous second quarter of basketball in their entire history, scoring only 6 points to the Toronto Raptor's 25. The final score was 99-85, but that is a misleadingly merciful score. The Raptors killed the Blazers. There were several painfully awkward moments when the crowd actually booed the home team, a rare occurrence in Portland.
Damian Lillard scored 36 points, but he worked way too hard to get there and none of the other Blazers, save Ed Davis, put on a show worth mentioning. Ed showed his usual hustle, but even he was off much of the night. Perhaps someone snuck some THC into the Blazers' Halloween candy, because everyone seemed a little sluggish, bewildered, and clumsy. Or perhaps the Raptors just played really well. They are a good team, after all, and even with two of their strongest starting players sitting out due to injury (Ibaka and Valanciunas), they dominated the inside game. Hey, enough of this depressing game recap, Let's check out some Blazer fan fashion, shall we?
These two looked happy before the game, but they didn't know what was coming:


Halloween costumes were evident, like this fishy duo:


Daft Punks!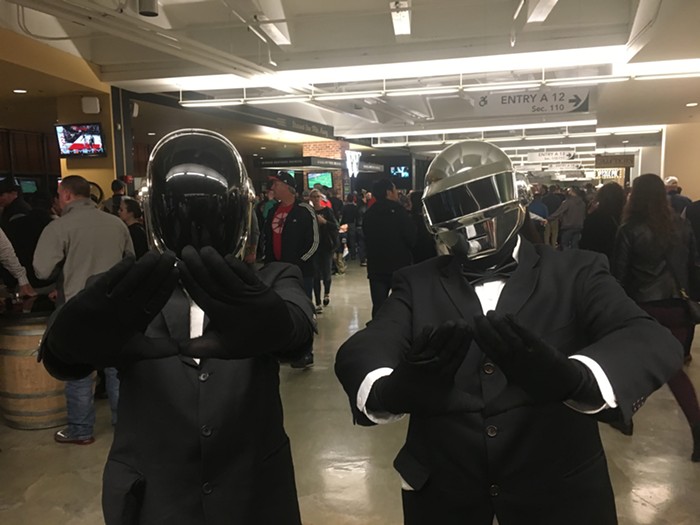 These two saw the Blazers win the 1977 NBA championship live. His jacket is Norwegian, but it works for the Blazers, too:


Extra points for the cool shoes: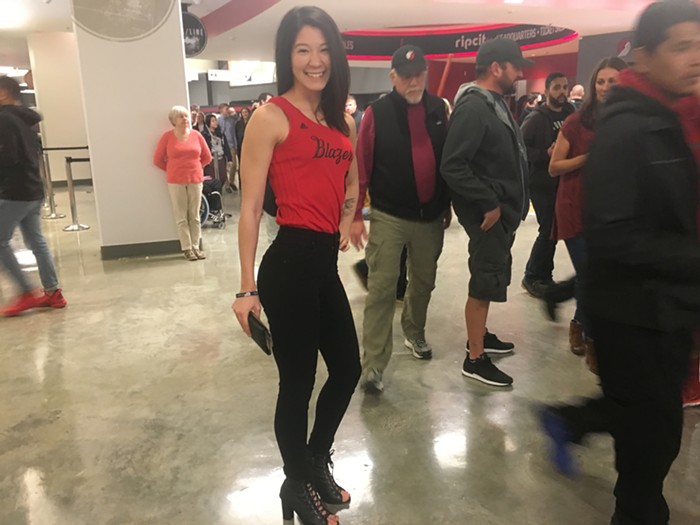 This guy didn't seem to understand that the Warriors weren't actually playing tonight:


These two came all the way from Canada to see the game. At least they got to leave happy!


Look, the NBA season is long and even good teams have crappy games occasionally. This years' Blazers are better than what they showed on the court on this night. Let's hope they put it behind themselves quickly and get back on track soon. Afterwards Coach Terry Stotts said it was "brutal" to watch his team miss 20 shots in row during that now infamous second quarter. Yes, it was. The Blazers play Utah on Wednesday and then return home to take on the flashy LA Lakers. Redemption come quickly!