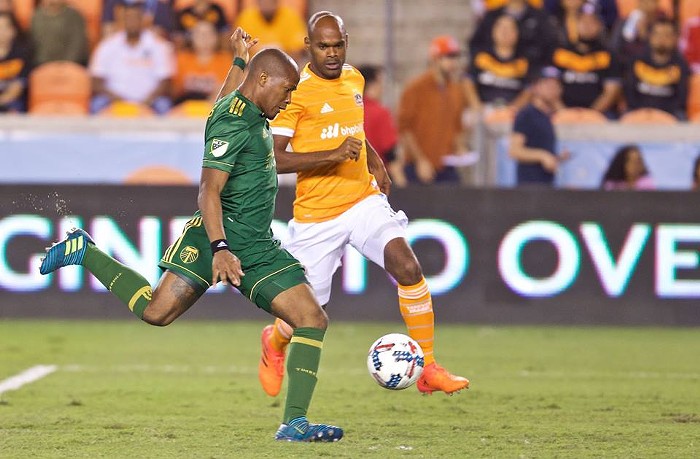 Here are player ratings for the Timbers' playoff-opening 0-0 draw in Houston on Monday night.
PORTLAND TIMBERS
Jeff Attinella, 6: Had one shaky moment when he was late arriving to a ball over the top for Elis, but made a very nice save on a Senderos header in the second half and, in total, didn't have all that much to do.
Vytas, 7: For a player who not so long ago was benched over concerns about his defending and his focus, Vytas was very good on Monday against a dangerous winger in Quioto. Will be an important matchup again on Sunday.
Liam Ridgewell, 8: The fullbacks got much of the praise for clean sheet, but Ridgewell was excellent in central defense. There was one bad giveaway, but a number of important interventions and an organizational job well done.
Larrys Mabiala, 5: Took a number of big risks in the half he played, and picked up a yellow card just before exiting. If there are any questions whatsoever over his fitness, Roy Miller will get the call on Sunday.
Alvas Powell, 8: All that time on the bench in August and September seems to have done Powell a world of good. He was lockdown on Monday, and, thanks to his speed, able to put out fires across the backline. In his best run of form since '15, but is on a yellow and was torched by Beasley in Portland in the regular season.
Lawrence Olum, 5: Can't complain, if only because you know exactly what you're going to get from Olum in midfield. The slower pace of the game certainly didn't hurt him.
Diego Chara, 6: Was smiling on his crutches in after the game, per Merritt Paulson. We'd expect no less.
Darlington Nagbe, 5: Came out with plenty of vigor, but blew the best chance of the game early on. Faded towards the end of the first half.
Diego Valeri, 7: Had zero help for most of the night, but still found pockets of space and pulled the Dynamo defense all over the field when he got on the ball. Would have had some assist too had Nagbe finished that early chance.
Dairon Asprilla, 5: Did the hard work defensively, and got in some good spots on the other end, but was pretty well handled by Beasley.
Darren Mattocks, 3: Penalty shout notwithstanding, Mattocks struggled. Was caught offside time and again, and couldn't provide the holdup play that the Timbers needed in the second half before being moved out to the wing.
Substitutes
Roy Miller, 6: Came in and didn't miss a beat. No reason not to be confident if he starts on Sunday.
Amobi Okugo, 6: Hats off to Okugo, who hadn't appeared in a game since June and, like Miller, was ready when called upon. Still think he's a better option than Olum in midfield, but likely won't start in leg two unless both Guzman and Nagbe are out.
Jermey Ebobisse, 5: Had half a chance late on, but his shot was easily saved by Deric. He'll likely have another chance or two on Sunday.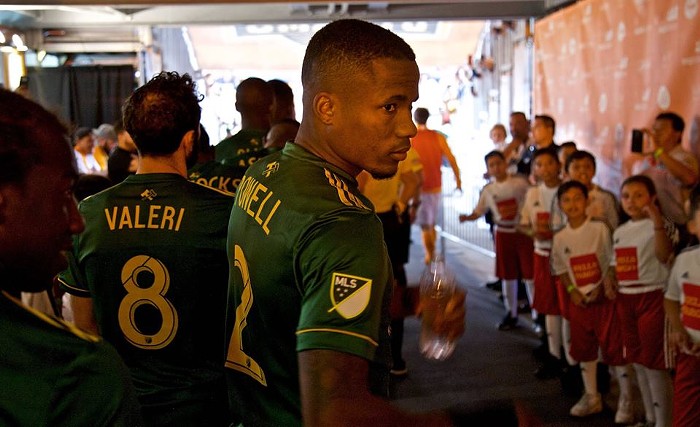 HOUSTON DYNAMO
Tyler Deric, 5: Got the benefit of the doubt on the Mattocks challenge, and wasn't tested otherwise.
Jalil Anibaba, 6: Certainly the player the Timbers were targeting, but after Nagbe got free a couple of times to start the game, he settled in. Portland has to make him more uncomfortable next time out.
Adolfo Machado, 6: Had a fairly quiet night. He'll have more on his plate on Sunday.
Philippe Senderos, 7: Hard to think about where the Dynamo would be right now without Senderos, who — out of nowhere — has been hugely important over the last two weeks. Was again very strong on Monday night, and was the closest Houston player to scoring with his second half header.
DaMarcus Beasley, 8: Shut down Asprilla, distributed well on the right side, and was one of the few Dynamo players who showed any kind of urgency late on. Still one of the best at 35.
Juan David Cabezas, 5: Cycled the ball well enough in middle of the field, but hardly got into the attacking third on a night when the Dynamo needed to commit more bodies forward. Will be a hugely important player for Houston in the second leg.
Eric Alexander, 5: A solid if unspectacular outing for the 2012 Timbers assist king. Doubt we see him again in this series.
Tomas Martinez, 5: Was not the creative force the Dynamo needed as he struggled to connect passes in the final third. Will be interesting to see if his spot goes to Alex at Providence Park.
Alberth Elis, 4: Round one of this matchup went to Powell. Elis drifted around the field trying to find the game, but didn't have much luck.
Romell Quioto, 4: Looked dangerous the few times he got free, but was mostly contained by Vytas. Scored on his only previous trip to Portland.
Mauro Manotas, 3: Completed just nine passes in the attacking half and made several questionable decisions on Dynamo opportunities. Not his best.
Substitutes
Vicente Sanchez, 4: Sanchez certainly provided a spark when he entered, but he wasn't sharp and had a limited impact when Cabrera — oddly — put him on the wing after Alex came on.
Alex, 3: For a fairly creative player, he looked somewhat out of sorts when he came on. Never found his feet. Should be back in the starting lineup and better in leg two.
Cubo Torres, 2: Was anemic in his fifteen minutes. Not that Manotas was much better, but Cabrera has a big decision to make about who starts on Sunday. Torres has had success in Portland.
NEWS & NOTES
— Off the field, for Houston, leg one was an embarrassment. The field was dangerous, the crowd was sparse — just over 15,000 ticketed — and its chants were homophobic. The setting for Sunday will be a massive step up in class.
— The early word from Chris Rifer of Stumptown Footy is that the Timbers are confident that they'll have Blanco, Guzman, and Nagbe back for Sunday. Mabiala's status is up in the air; Chara and Adi are both out.
— If Nagbe is available and Guzman isn't, Nagbe likely has to play in central midfield. Starting both Okugo and Olum would put a huge amount of pressure on the front four to create offense.
— Leg 2 is set for Sunday at 4:30 p.m. at Providence Park, with television coverage on Fox Sports 1.