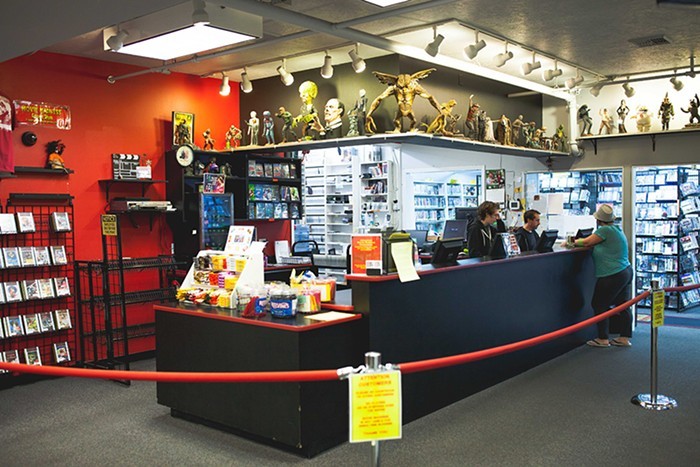 Three weeks into the Hollywood Theatre's campaign to save Portland video store Movie Madness, the non-profit has announced new rewards and a benefit screening in hopes of hitting a stretch goal—building an in-store screening room and bar at Movie Madness. The Hollywood is now hoping to raise an additional $75,000, after their "Save Movie Madness" Kickstarter reached its initial goal of $250,000 in just nine days.
This Friday, the Hollywood is hosting a benefit screening of Hayao Miyazaki's 1997 animated classic Princess Mononoke. Besides being the best fictional representation of what it's like to ride a wolf (not sorry Game of Thrones), the Studio Ghibli masterwork is also the most rented film in Movie Madness' 26-year history.
In addition, the Hollywood announced new rewards, which include a screen-printed poster by local graphic design firm Jolby & Friends, and a pizza party in the hoped-for screening room, complete with the choice of any movie from Movie Madness' collection and pizza from Sizzle Pie.
In our feature a few weeks back, the Hollywood and local film lovers made their case for keeping historical film collections—like the one at Movie Madness—available to the public in an era of online streaming services that offer smaller, unreliable, and less diverse libraries.