The Trail Blazers have always had some trouble making winning games a reflex. They act like a little kid that's in the early stages of trying to learn how to ride a bike. If they have a substantial lead, they get so excited that they're doing it they lose their balance and crash. Granted, the Blazers were victorious against the dreaded Los Angeles Lakers on Thursday, but they blew a commanding 41-25 opening quarter lead, and left the win to be decided by a nail-bitting, buzzer-beating three from Damian Lillard. A win is a win, but it would be nice if they came as easy as riding a bike.
Last night the Blazers faced off against the Oklahoma City Thunder. Along with the Blazers, the Thunder have had some what of a shaky start to this season. Considering their off-season acquisition of seasoned forwards Paul George and Carmelo Anthony, their 4-4 record looks a little wimpy. There's always a bit of a learning curve for a team that adds new egos, but they've still got the nasty weapon that is Russell Westbrook, so their record should be better than .500.
During the off-season Dame and CJ McCollum were heavily courting Carmelo Anthony to make his way into a red and black uniform instead. After lots of rumors and back and forth, Melo decided to go with the Thunder. There didn't seem to be too much love lost over him going with the Thunder camp, but last night would've been a good opportunity to show Melo what he's missing out on. Plus, it would've been nice to see the Blazers take out one of the tougher teams in their division.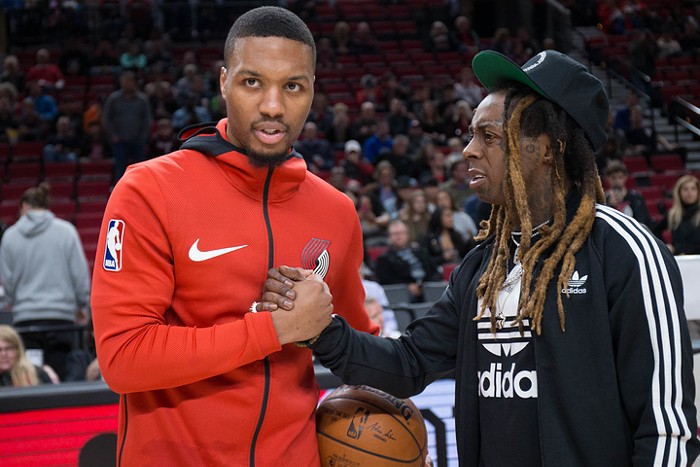 Bruce Ely / trailblazers.com
Dame showed up big for his co-conspirator Lil' Wayne who was in attendance, and put up a double-double in points and assists. With his fourth consecutive 30+ point game he guided the Blazers to a big win over the Thunder, 103-99.
Melo opened up the game working hard on the Blazers. He had nine of the Thunder's 13 points after five minutes of the contest. He cooled off the rest of the quarter and only kept the nine, but he was proving himself difficult to contain.
Early in the first, Westbrook received the happy end of a questionable call on a break to the hoop, but on his next attack things didn't go his way and he got a little mouthy with an official. The official kind of raised his hand in his direction as if to say, "I hear you, but you better cool it." Of course he didn't, and as Dame was bringing up the ball play was stopped and Westbrook got himself a technical foul. That left the Blazers the rest of the game to push his buttons and see if they couldn't get him tossed. With a volatile personality like Westbrook's, it didn't seem too farfetched.
Caleb "Biggie" Swanigan got some solid time in the first half, and looked great doing it. He sank a buttery jump hook in the paint, and a quick baseline jumper that looked confident all the way. The kid is a pleasure to watch, and he helped the Blazers maintain their lead through the first half.
Bruce Ely / trailblazers.com
Dame was a flaming streak to the hoop for the beginning of the second half. He perpetrated some of those lightning cuts that look like he doesn't know how he's gonna finish them until he's about to hit his chin on the rim. While it's great to see him rip through the paint, it'd be nice to have him work the ball in slow occasionally and up his assist column. He would be a little more generous throughout the game, ending with 13 assists.
Bruce Ely / trailblazers.com
One would think Melo would've learned from Westbrook's early technical foul and adjust his attitude accordingly, but instead he got one of his own in the beginning of the third quarter. Then, with just under five minutes left in the quarter, he drove on Jusuf Nurkic in the paint and decided to bury his elbow into Nurkic's jaw instead of trying to score. Nurkic crumbled to the ground and stayed there while the training staff assessed him. He eventually shook it off, but it gave the officials enough time to pin a Flagrant Two foul on Melo and eject him from the game. At first glance it looked like a tough call, but after watching the replay a few times and seeing Melo bring the ball down so he could give Nurkic some chin music instead of pushing it up over the rim, it was a no-brainer. Melo getting tossed was more than enough to knock the Thunder off balance and help the Blazers push their lead up to double digits before the final quarter.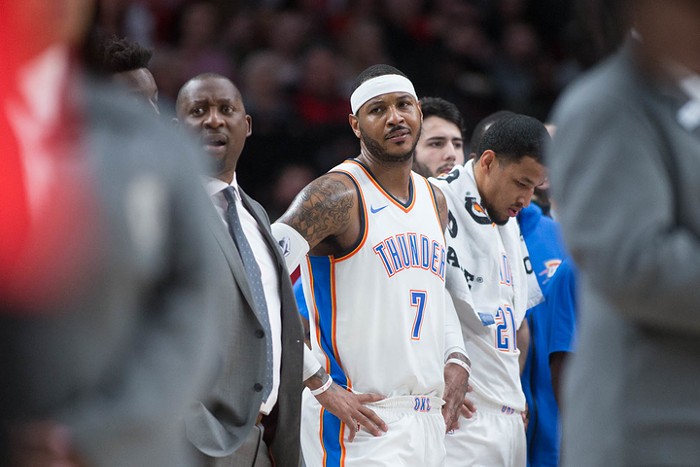 Bruce Ely / trailblazers.com
But, in true Blazer fashion, they let their lead slide down to three with over three minutes left in the game. After the two minute mark it became a shooting gallery. Both teams traded shots from behind the three point line. Thankfully the Blazers were able to keep the deficit in the Thunder's column. That, plus five missed free throws in a row from Westbrook in the final minute or so helped the Blazers go over the top. You could almost hear Rasheed Wallace's famous words echoing in the arena, "Ball don't lie."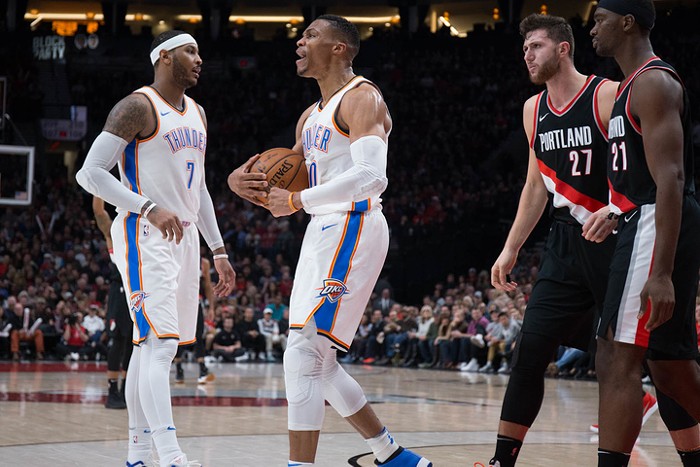 Bruce Ely / trailblazers.com