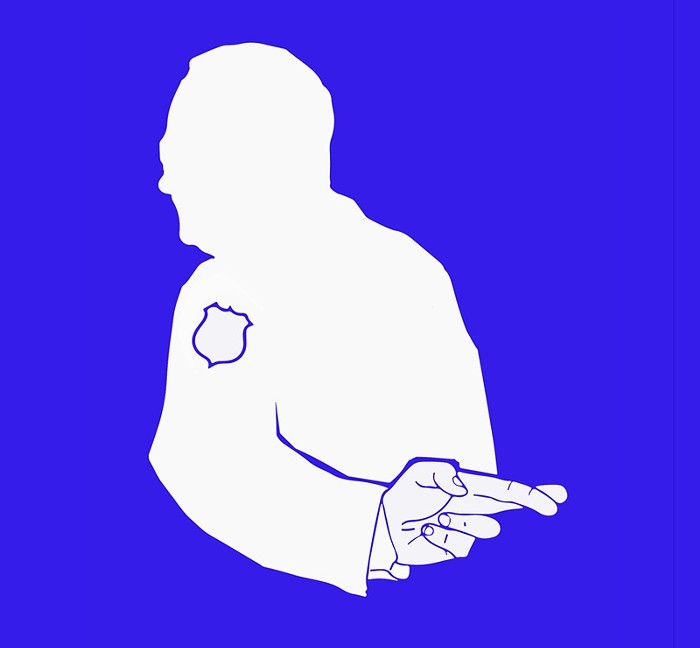 The Portland police captain formerly in charge of the bureau's internal affairs unit failed to do his job last year, when he learned then-Chief Larry O'Dea had mistakenly shot a friend while camping, an internal inquiry concluded early this year.
Captain Derek Rodrigues should have immediately set an investigation into motion when he learned of the shooting on April 25, 2016, letting the city's Independent Police Review (IPR) know about the incident, and establishing contact with the Harney County authorities investigating the matter.
Instead? Rodrigues did nothing, not mentioning the matter to IPR, or his superiors, or anyone else. And for that, Rodrigues is the lone Portland Police Bureau employee to face potential discipline in the O'Dea shooting.
A lengthy investigatory report [PDF] released this morning shows Rodrigues was found to have broken bureau rules requiring him to report the O'Dea incident. It's not clear what discipline, if any, Rodrigues faced for the breach, which sent shockwaves through the city's police accountability system and raised suspicions of a cover-up when the shooting was unearthed a month after it occurred. Rodrigues is now head of the police bureau's Family Services Division.
"This level of misconduct has had a pronounced negative impact on the professional image of the Police Bureau," PPB Assistant Chief Matt Wagenknecht wrote in a February memo announcing the findings against Rodrigues.
At the same time, Wagenknecht found four assistant police chiefs who'd also learned of the shooting were blameless, because they all believed an internal investigation had been launched. Those assistant chiefs (all since either demoted or departed from the PPB): Bob Day, Mike Crebs, Kevin Modica, and Donna Henderson.
The findings stem from an April 21, 2016 hunting accident in which O'Dea mistakenly shot his friend Robert Dempsey in the back.
On that day, the former chief and several friends were shooting at ground squirrels during a campout in Harney County, when O'Dea's .22-caliber rifle apparently misfired, dealing Dempsey a non-lethal wound. O'Dea at first claimed to authorities his friend had mistakenly shot himself. He told investigators he only came to realize that he was the guilty party days later.
As we reported in August, O'Dea told then-Mayor Charlie Hales, his assistant chiefs, and Rodrigues about the incident days later, on April 25. The city's Bureau of Human Resources found that O'Dea allowed his assistant chiefs to believe that Harney County deputies were investigating his involvement (he'd suggested to them Dempsey shot himself) and that an internal investigation was coming.
But it never occurred to Rodrigues to launch an internal investigation.
"There's nothing for me that caused me any concern," he told investigators. "It was, in my mind, you know, just an off-duty incident. It's a hunting incident. He was sharing something with me that occurred."
Rodrigues says O'Dea never made clear that Harney County deputies were investigating the matter. If he had, Rodrigues told IPR, it "would have gotten me in a different realm."
The report notes: "Asked if he was aware Chief O'Dea was the subject of a criminal investigation... Captain Rodrigues stated, 'Absolutely not.'"
The lapse confounded PPB command staff. "I mean, how could you possibly not notify IPR if there is a criminal investigation?" Commander George Burke told investigators.

As a result of Rodrigues' inaction, IPR didn't learn of the shooting until Willamette Week caught wind of the matter on May 20.
"The City's failure to initiate an immediate administrative investigation after the Mayor and the highest levels of the Police Bureau were made aware of the Chief's negligent discharge represents an organizational failure of the highest order," IPR Director Constantin Severe wrote in a memo to then-Chief Mike Marshman on January 30, 2017. "It has led to decreased faith among members of the Police Bureau and the community at large that alleged misconduct by senior members of the Bureau will be subject to a rigorous administrative investigation."
The finding against Rodrigues, but exonerating the four assistant chiefs, isn't all that surprising. We've known for months that O'Dea left his command staff in the dark about what was playing out in regards to the shooting. Each assistant chief interviewed in the IPR report says they believed criminal and internal investigations had been, or would soon be, initiated. That was not the case.
O'Dea told investigators he was surprised an internal inquiry wasn't launched after he told Rodrigues of the shooting. Still, his lies by omission were enough for Mayor Ted Wheeler to send the departed chief a strongly worded letter in July, saying "If you were still employed by the police bureau, I would terminate your employment."
But the IPR investigation also paints a picture of a police bureau in turmoil—and also in disbelief at the lapses of its leader.
"I would have never in a million years believed that this chief would have conducted himself the way he has," former Assistant Chief Donna Henderson, who briefly took over for O'Dea when he was placed on leave, told investigators.
In a written statement to investigators, Henderson wrote: "Up to May 23rd, 2016, I believed Chief Larry O'Dea was an honorable man who acted with integrity... The chief of police misled the mayor, his senior staff and Internal Affairs about the incident."
Bob Day, a former assistant chief who now leads the PPB's Training Division worried about the perception that "this was a cover up and really felt strongly that my integrity was being challenged."
A text exchange between Day and Henderson a couple weeks after the shooting—and apparently about O'Dea—was much more frank.
"I am going to throw him out the window," Henderson texted Day.
"I can help," Day replied.
In another exchange, Henderson texted Day that she wanted to "scream about" an article that suggested O'Dea might have been intoxicated at the time of the shooting. (He has denied that, and there has been no finding he was drinking.)
Beyond internal questions about O'Dea's integrity, the shooting rankled officers within the bureau, the investigation shows. At one meeting, "Day told Chief O'Dea rank and file members were 'upset' about the incident, and believed they would have been treated differently."
They were probably correct. As the Mercury reported at the time, O'Dea appears to be the lone officer who shot a person while off duty and wasn't immediately placed on leave.
There's also a mysterious interaction noted in the investigation. A forensic extraction found that Rodrigues and O'Dea texted on the morning of May 20, 2016—hours before news of the shooting broke. However, investigators couldn't actually retrieve the contents of the text, which Rodrigues says he deleted, as he does all of his texts.
Rodrigues told investigators he didn't remember the exchange, but that it definitely did not have to do with the Dempsey shooting.
"I can tell you it's business because we have a business relationship, but nothing to do with – we've never communicated besides the time what he [O'Dea] told me in our meeting," Rodrigues said. "Nothing at all whatsoever."
Wagenknecht wound up finding allegations that Modica, Day, and Crebs had "failed to take appropriate action" were "unfounded" the documents show, and "exonerated" Henderson of the same allegation. He sustained an allegation Rodrigues "failed to initiate an administrative investigation."
IPR, which conducted the investigation, largely agreed with Wagenknecht's call, though the office's Rachel Mortimer argued the findings against the assitant chiefs should technically be that the allegations were "not sustainted." She also raised concerns about the effect on Rodrigues.
"I agree that it should be Sustained, but I am concerned that the Captain will be made to carry the full burden of this case," Mortimer wrote in a memo. "He should have spotted this as a case requiring notification, but he was not served well by the way he was notified or the structure of the current system."