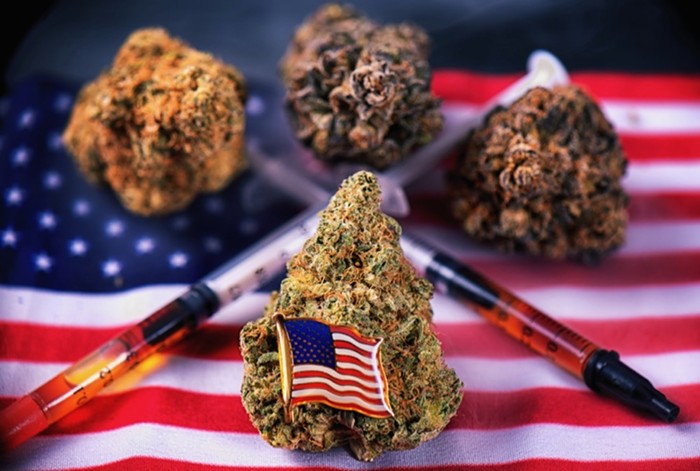 Oregon produces some of the finest cannabis in North America, and as evidenced by
an article yesterday in Salem's Statesman Journal
, we also produce the finest elected representatives to stand up for our cannabis industry. The
Journal
's Jonathan Bach reported on
Rep. Earl Blumenauer
's announcement that he has formed the Cannabis Fund, a political action committee (PAC) with the goal of unseating anti-cannabis lawmakers.
As of June, the last point at which financials were disclosed, the fund had raised $2,000, and in October, Blumenauer revealed that his first target will be Rep. Pete Sessions from the state of Texas. There is no love lost between these two representatives on the matter of jazz tobacco. Sessions has gotten all up in the business of Blumenauer at least twice—first by helping block a vote on a Blumenauer amendment that would have helped veterans access medical cannabis through the Veterans Affairs program. (I guess because Sessions would rather see veterans in pain or strung out on opiates? An odd choice, but you do you, Petey.)
Then Sessions, who chairs the House Rules Committee, continued to be a dick by blocking the Rohrabacher-Blumenauer Amendment, which would have prevented the Justice Department from using money to go after medical marijuana users in states with medical marijuana programs. (Sessions seems to think the best thing for someone who's sick or dying is to sit in a jail cell—I would be interested to hear if a majority of licensed medical professionals agree with that treatment plan.)
Blumenauer made it clear he isn't up for any of these shenanigans, and put Sessions and his ilk on notice, telling the Statesman Journal:
"We're going to be putting up some billboards in Pete Sessions' district… It's going to feature a veteran and ask the question why Pete Sessions doesn't want him to have access to his medicine. We're going to make the point that there are consequences, this is not a free vote.

"The American people overwhelmingly support cannabis reform, and we have more support than ever in Congress. I launched the Cannabis Fund to keep up this momentum.

"I want to see even more pro-cannabis candidates elected to Congress and continue the wave of reforms happening at the state level. And we want to make clear that there are consequences for those elected officials opposing what a majority of the public supports," he said
Sessions, seemingly fond of absurd hyperbole, told the Statesman Journal in a statement, "The merchants of addiction are attempting to influence our work, and it's my hope that we will see this problem as a national crisis."
The flaccid fearmongers at Smart Approaches to Marijuana Action (mentioned in my column this week) have entered the fray, paying for a digital billboard along a highway near Sessions' Dallas, Texas office. Per the Statesman Journal: "The billboard shows Amanda, a Texas mother cradling a baby who says, 'Thanks, Congressman Sessions for protecting my family against marijuana legalization.'"
Read more about the conflict, and Blumenauer's fund to combat anti-cannabis lawmakers, at the Statesman Journal.