Astute Blazers fans were aware of the many juicy storylines leading in to this particular game. Jusuf Nurkic, Portland's "Bosnian Beast" center would meet his old team, The Denver Nuggets, where he had not felt fully appreciated last season. He'd face up against the man who stole his starting spot in Denver, Nikola Jokic, the Serbian sensation. On top of that Nurkic was coming off a game during which he'd been inexplicably benched in the crucial fourth quarter and appeared to have been upset about it. And on top of that the Blazers and Nuggets come from the two most weed-friendly NBA towns in America. So it was a stoner showdown, and The Blazers smoked the Nuggets 99-82.
Portland needed this win after losing to a lousy Brooklyn Nets team on Friday. Fortunately they came to play and Nurkic in particular was able to shut down the potent offensive threat posed by Denver Center Jokic. Portland's bench stepped up big as well. Led by Evan Turner and Noah Vonleh, they outscored Denvers reserves 42-14. Rookie Caleb Swanigan started for the first time in his NBA career and looked solid.
Want to see what the fans were wearing at halftime?
These two sported nice tattoos to go with their Blazer's gear: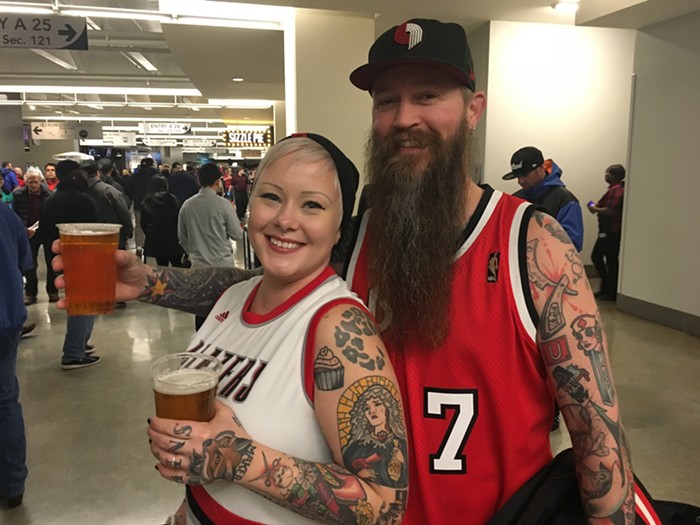 Cool mother/daughter duo:


Fathers and Sons: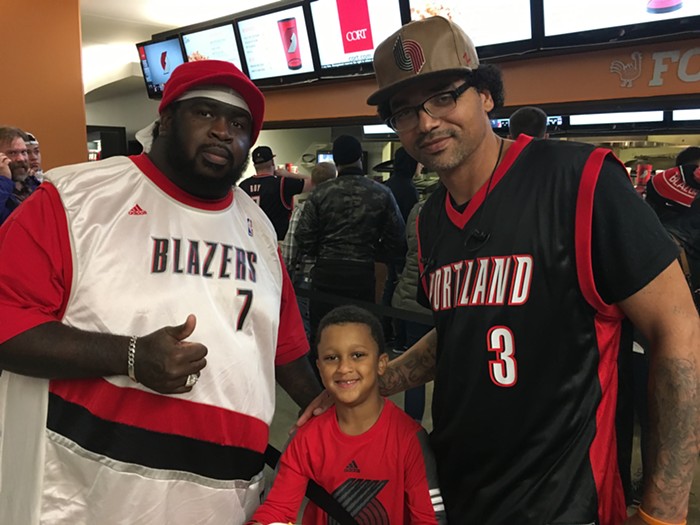 This guy here lives in Portland but for some reason became a Nuggets fan. He even convinced his girlfriend to become one as well.


The smoking section was all about celebrating the Blazer/Nuggets connection:


Heck, even Cliff "Uncle Spliffy" Robinson was in the house. Boom!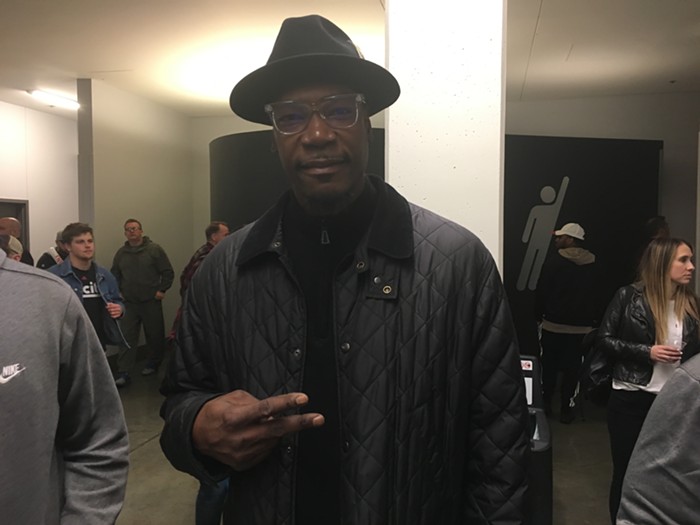 The Blazers led by 5 points at the start of the second half. Several games this season have fallen apart for the blazers in the third quarter, but that didn't happen on this night. Lillard and McCollum came out swinging and buried a few three pointers and soon enough the lead was in the double digits. Denver never got into a rhythm and by the end of the fourth quarter Portland was giving playing time to the deep bench, enjoying a nice blowout win at home. Jake Layman and rookie Zach Collins both hit three point shots which got the crowd going. There was a little drama in the final minute as fans urged the Blazers to break the 100 point barrier so everyone would win coupons for free Sausage McGriddles, but alas, Portland only scored 99 points.
Afterwards the locker room was bumping and players were joking around, happy to shake off the sting of a two game home losing streak. Jusuf Nurkic strolled in triumphant and spent about ten minutes laughing on the phone while the assembled press corps waited to speak with him. When asked about the phone call CJ Mccollum joked that Nurkic had been talking to his parole officer.
"No no, it wasn't that," said Nurkic. Then he took some questions.
The Blazers play the Orlando Magic here in Portland on Wednesday. It should be good game as the two teams are closely matched and the Blazers could really use another win in this young season.