Don't look now but the Blazers have won two in row. Shabazz Napier provided the unexpected spark off the bench and Portland overcame a slow start to take down Orlando, one of the better teams in the Eastern conference. Napier, who saw little playing time last season, appears to be breaking out this season. It was a career night for him, scoring 19 points on the team that traded him away for a mere $75,000 few years back. The Blazers won 99-94.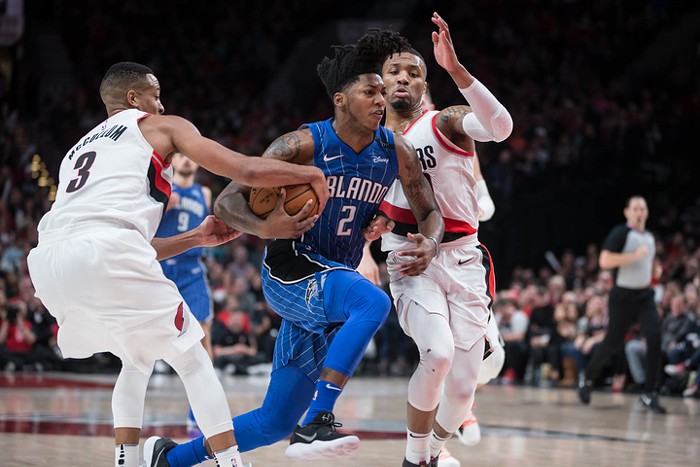 Now, take a close look at the hair of the Orlando player in the picture above. That's Elfrid Payton's 'do and it's the talk of the league. How does he pull it off? Is this practical? I spoke with him and his other impressively coifed teammate, Johnathan Issac, after the game, but you'll have to read on in this recap to find out what they had to say.
The ebb and flow of this game was enough to give Blazers fans a case of whiplash. Things started badly with defensive lapses and poor shooting and the Blazers found themselves down 13 in the second quarter. But then they went on a furious 17-0 run to go up by 4 at the half. CJ McCollum and frenchman Evan Fournier got into an exciting altercation right before the break during which McCollum could be seen blowing kisses at Fournier. Here's a video of that:

CJ and Fournier get tangled, exchange pleasantries #ripcity https://t.co/Q7dncn6uxC pic.twitter.com/CtzOgIrIAC
— NBC Sports Northwest (@NBCSNorthwest) November 16, 2017

And here's a sampling of the fan action in the hallways at halftime:
Sweet matching face paint:


Rockin' couple:


A Blazer family:


Everyone wanted to get a picture with Blaze the Trail Cat:


The second half saw the Blazers hold off the Magic for the most part. Coach Stotts employed an interesting three guard line-up featuring Lillard, McCollum and Napier which proved effective. Napier hit 5 three pointers and became the difference maker on the night. If Napier can keep it up, this could be an encouraging development. The other Blazers turned in fairly good games as well. Nurkic did a good job containing Orlando big man Nikola Vucevic, a player who usually gives Portland a headache.
Okay, so what about Elfrid Payton's hair? Why would an NBA player choose to have a crazy coif that appears to flop up and down in his field of vision as he runs? I mean, look at this:
I was initially hesitant to ask Elfrid about his hair, figuring it was a constant source of curiosity and perhaps he was tired of the questions. But he was very gracious and explained that it started when he was in high school in Georgia and vowed not to cut it until they won the state championship. They never did win it, but he kept growing his hair because "it gives me confidence". Payton directed me towards his fellow player, Johnathan Issac, a 6' 10" rookie on the Orlando squad who is also a fan of not cutting his hair. Here's Issac's look:
Issac told me his long hair doesn't get in the way when he's playing ball, "I don't think I'll ever cut my hair, pretty much until it honestly falls out. I don't think I'll cut it until then."
I asked him if NBA players grew their hair higher like that so that they might appear taller and Issac said, "Uh, I hope that's not the reason...I just think I look better with longer hair."
Cool! The Trailblazers now sit in 5th place in the Western conference with an 8-6 record. They play the Sacramento Kings in Sacramento on Friday and then here in Portland on Saturday. The Blazers should win both of those games, but so far this season nothing has been a sure thing.