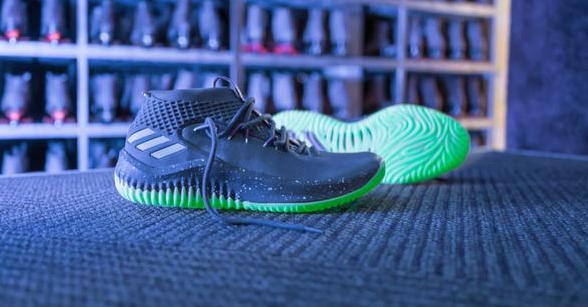 For you sneakerheads out there—and roller skating fans LIKE ME—it's welcome news that the Blazers' Damian Lillard is releasing his newest Adidas shoe: the "Glow In The Park" Adidas Dame 4. Along with being the best rapper and vegan in the NBA, we now learn that Dame is also an excellent roller skater, possessing skills he honed back in the day at rinks in his hometown of Oakland. From the Adidas press release:
"When I was younger, we were skating all the time. There were always skates at my grandmother's house and we'd do that at home," Dame said. "When I got to high school, every Saturday we'd drive to the skating rink and we'd be there all night skating. Every weekend that's how it was. Everybody skated. We put a lot of time in working on our game. But when you think about it, this is the one life you get to live. You've got to find other things that interest you. That's why I do music and that's why I skate. Because you got to let your mind go other places, create that balance and enjoy it. Skating and rapping is that for me."
Yesssss! And the lowtop shoe's color scheme reflects that love for the rinks with a glow-in-the-dark outsole (that actually glows in the dark!!), a dark gray upper, and a burgundy/neon blue midsole. And it continues to get better, because not only did Adidas create an actual pair of skates for Lillard made from the shoes, he'll be wearing them at Oaks Park Roller Rink at some point in the next few days, and YOU COULD WIN A CHANCE TO SKATE WITH HIM SQUEEEEEEEEEE! Keep your eyes lit on Dame's Instagram for information on this skating trip of a lifetime.
The "Glow In The Park" Adidas Dame 4 sneaks are on sale today at adidas.com and eastbay for $115.