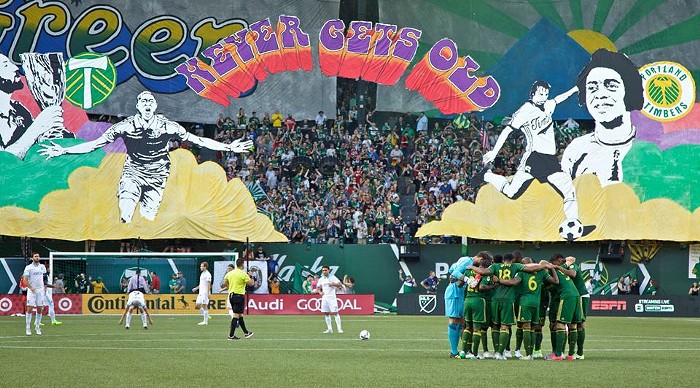 In many ways, 2017 was a wonderful season in Portland. The Timbers won the Western Conference regular season, edging Seattle on a tiebreaker and Vancouver by a point, brought the Cascadia Cup back to Portland for the first time, and did it all by playing some of the league's best soccer.
But it was also a season laden with setbacks and adversity—and, in the departure of Caleb Porter late last week, a shocking final blow. The Timbers, now manager-less, are entering a pivotal offseason.
This, though, is a look back at the year that was. Here are the player grades.
GOALKEEPERS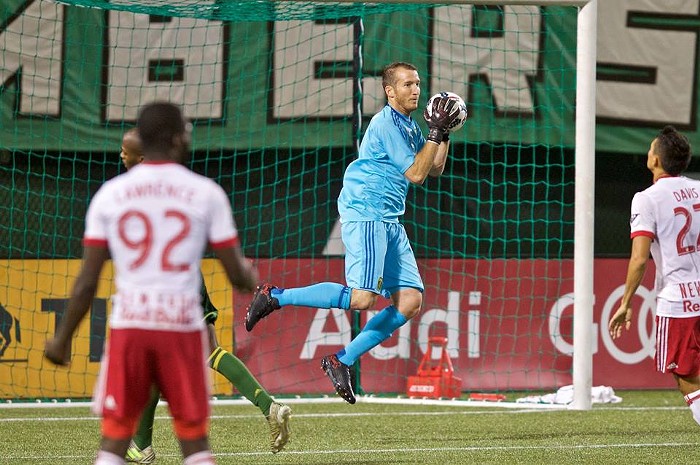 #1 — JEFF ATTINELLA: A-
For a career backup, however esteemed, Jeff Attinella had a resoundingly successful 2017. He set a career high in minutes, made his first two playoff starts, and set a career record for consecutive starts.
Though it came to a sour end with Mauro Manotas' goal in the second leg against Houston, the Timbers owe Attinella their Western Conference title. He single-handily saved the games against the Red Bulls and New York City, and gave the team their best goalkeeping of the season down the stretch.
Attinella will be 30 next year, and his ceiling isn't as high as Gleeson's, but he does have the trust of the coaching staff. It will be interesting to see what the Timbers do at the position next year.
#90 — JAKE GLEESON: C-
After the stellar 2016 that saw him displace Adam Kwarasey, Jake Gleeson struggled through the first half of 2017, started to recover his form in July, injured his ankle in Toronto shortly thereafter, and never saw the field again.
The good news for Gleeson is that Jeff Attinella's position as the starter isn't unassailable. Assuming the Timbers don't bring in a new goalkeeper, there should be an open competition for the job next spring.
The bad news is that when he's not saving everything he sees—like he wasn't in the spring and early summer—Gleeson is a below average goalkeeper. His decision making, distribution, and presence in the air has to improve. Even goalkeepers only get so many chances.
DEFENDERS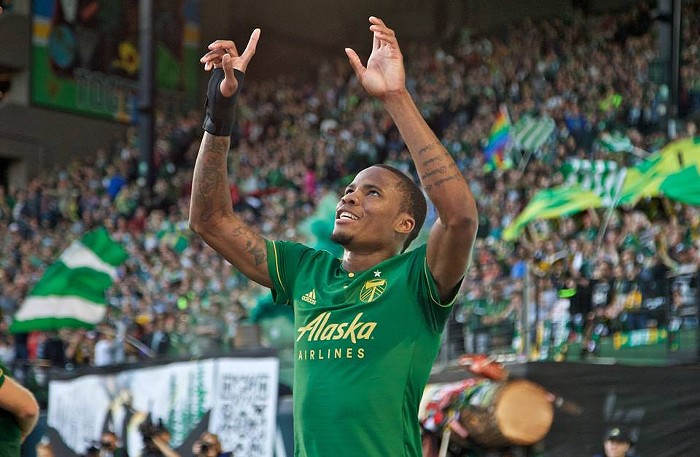 #5 — VYTAS: B
It was very much an up-and-down first full season in MLS for Vytas, who intermittently struggled with injuries and was at one point benched for Roy Miller after concerns about his defense and commitment boiled to the surface in late August.
But despite all of that, Vytas was easily the club's best fullback when he played. He was dangerous going forward—picking up assists in the regular season finale and in the home playoff game—and was solid toward the end of the season defensively as well.
Vytas has his limits, but he's more than serviceable at a position that MLS clubs struggle to adequately fill—and more than capable of keeping the seat warm for Marco Farfan over the next season or two.
#24 — LIAM RIDGEWELL: B-
When Ridgewell was on the field this year, the Timbers were a better team. Though he's slowing at 33—he'd tell you he was never quick to begin with—Ridgewell is still a sharp defender and defensive quarterback of sorts.
The problem, of course, was that he wasn't often on the field. After missing 12 games last season, Ridgewell this year missed almost four months—including a stretch of 13 games in the summer during which his commitment to and future with the club were thrown loudly into question.
Despite his effectiveness, Ridgewell's body is clearly breaking down. He's under contract for 2018, but even if he returns, the Timbers are almost certainly going to sign a younger starting-caliber center back. Where does that leave the club's three-year captain? It's one of the biggest on-field questions of the offseason.
#33 — LARRYS MABIALA: A-
The Timbers had to get the Larrys Mabiala signing right, and it looks very much like they did.
Last year, Steven Taylor was brought in to rescue the team's defense and playoff chances. He wasn't up to the job. But, this year, faced with the same task, Mabiala was. After the Frenchman made his debut against RSL in July, the Timbers finished the season 8-2-4 and the defense improved significantly.
Mabiala himself was excellent—strong, as his frame would suggest, but also mobile enough to keep pace with the league's quicker forwards. He should be a fixture on the Timbers' backline next season, and possibly for several seasons after that.
#2 — ALVAS POWELL: C+
Had he not finished it with one of his best four-game stretches since 2015, this would have been an alarming lost season for the Timbers' fifth-year fullback.
Powell started his fewest games since 2014, when he was loaned to Sacramento in the middle of the year. He was lifted after 53 dreadful minutes of a game in Montreal in May and didn't start again for nearly a month, got back into the team, then was benched for seven more games after a gutless outing in Toronto in August.
It's important to remember that Powell is still just 23. He did set a career high in assists this year, and finally seemed to lock in when he got his chance at the end of the season. 2018 has to be better, though it's hard to imagine that Porter's leaving will help a player for whom he always had great faith.
#7 — ROY MILLER: A-
Roy Miller was the author of a number of high-profile gaffes during his six seasons with the New York Red Bulls, and when he left to go back to Costa Rica after the 2015 season, it was assumed that his MLS career was over.
But the Timbers, having matched up against Miller twice in the CONCACAF Champions League league last season, thought that the veteran might yet have something to contribute in MLS as a backup center back.
They weren't wrong. In a season when the Timbers' leaned so heavily on their backup center backs, there's a argument to be made that Miller, who started 26 games, was the team's defensive MVP — an aggressive, hard-tackling presence so valued that Porter tried to keep him in the lineup as a right back even after Ridgewell got healthy at the end of the year.
That Miller tore his ACL on the final play of the final practice of the season is one of the cruelest twists of fate an MLS Timbers has ever player suffered. At 32, and out until next fall, his time in Portland is almost certainly over. He should be remembered very, very well.
#13 — LAWRENCE OLUM: B
He might not have had a single standout performance, but Lawrence Olum did his job this year: he ate a ton of minutes at multiple positions, and he largely played as well as he could have been expected to.
If it feels like that's not saying much, it isn't. Olum was certainly more a part of the problem than a part of the solution defensively, and he's now nowhere near quick enough to play in midfield. He didn't under-deliver, per se, but the fact that he played so much was a sign of how banged up the team was all season.
The Timbers might want to keep Olum around as a depth piece, but at 33, it's hard not to feel like one or two younger players — or Amobi Okugo — should pick up his minutes next season.
#16 — ZAREK VALENTIN: A-
This was a very, very good season for Zarek Valentin, whose consistency, intelligence, and technical proficiency stood in stark contrast to the man he battled for minutes all season at right back.
Valentin is an adequate defender, but it was on the ball where he set himself apart. He had three assists this season—all to Diego Valeri—and he give the Timbers an possession outlet from fullback reminiscent of what Jack Jewsbury provided during his year and change at the position.
Valentin's best isn't what Powell's best is, which is why Porter consistently went back to Powell for the season's biggest moments, but Valentin over the last year was certainly at his best more often. He's in his prime at 26, and the Timbers are lucky to have him.
#32 — MARCO FARFAN: A-
Though it fizzled after the spring, Marco Farfan did more than enough in his first MLS season to announce himself as the club's left back of the future.
Farfan started four of the club's first seven games—a number that would have been higher had he not come down with the stomach flu in the week leading up to what would have been his home debut in March—and never looked out of place. Farfan's pace was his standout attribute, but he also hung physically and technically.
The only blemish was a start in Minnesota over the summer, in which Farfan was pulled at halftime and scapegoated somewhat by Porter in the aftermath of what would be a 3-2 loss. Injuries mostly sidelined Farfan for the rest of the year, but he should play a bigger role in 2018. The future is bright.
#4 — CHANCE MYERS: F
It's hard to imagine that it is possible to have a worse season than the one Chance Myers just went through in Portland.
Brought in to backup Alvas Powell at right back, Myers struggled with injuries and didn't play for the first time until the middle of July, played 44 ugly minutes, broke his ankle, and was never seen again. Myers is done in Portland, and is facing an uphill climb to make an MLS roster next season.
MIDFIELDERS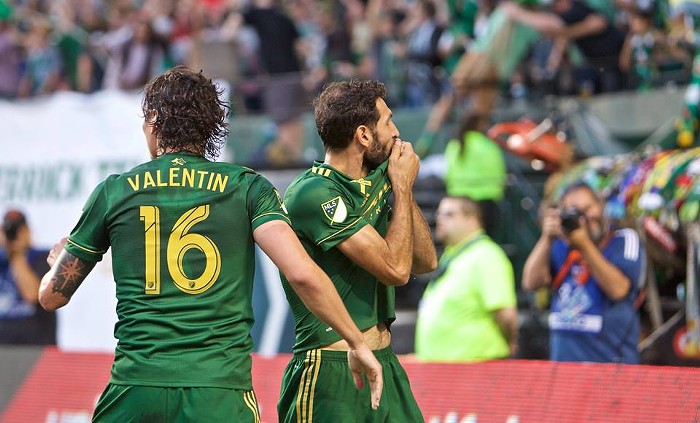 #20 — DAVID GUZMAN: B+
Guzman was brought in to be a stay-at-home number six, and while was decent in that role, he was more effective when he had the license to get forward.
His best half of the season came in Seattle in May, when Diego Chara was suspended and with Olum sitting behind him, Guzman orchestrated the Timbers' attack. Six assists — including a number of excellent set piece deliveries — suggest that the Tico is a much more skillful player than he was originally billed as.
Guzman cooled off slightly after a strong start to the year, but his place was never questioned and the Timbers won just three of the ten games he didn't start. Some of the play-acting was embarrassing, however, and you feel that he's capable of more next year as he acclimates further to the rigors of the league.
#21 — DIEGO CHARA: A
At 31, Diego Chara was as good in 2017 as he ever has been for the Timbers.
A big part of the reason why was that with Guzman in the fold, Chara was able to get forward more often and with more effect than he has at any point in recent years. That meant a couple of sensational performances, like against Dallas, Seattle, and Orlando, but it also meant a career low in fouls committed and a career high in passing percentage.
Big picture, and it goes without saying, but Chara's engine and defensive instincts remain an absolute joy. No one in MLS can do anything like he can do on a game-to-game basis.
The season ended when he got hurt in Houston. It might not have ended against Houston six days later, but the Timbers weren't going to win anything without Chara. That they haven't won a single game without him in more than two years speaks volumes. He is irreplaceable. Here's hoping his foot heals quickly and well.
#6 — DARLINGTON NAGBE: B
Coming into the season, there was big emphasis from the Timbers on getting more production from their longest-tenured player. They were going to play him on the left wing, where he had his best season in 2013, and hope he'd
It didn't happen. Three goals and five assists was an improvement on last season, but it wasn't much of one — even if Nagbe did score what might have been the two best goals of the MLS season against Vancouver in May and Colorado in August.
Nagbe did plenty of good work this year as he always does, but it might be time to resign ourselves to the idea that he's never going to get out of first gear for more than one fleeting moment at a time. For all of his talent, he was largely invisible for the U.S. in World Cup qualifying — and has now likely lost his chance to play in the world's showpiece event.
#10 — SEBASTIAN BLANCO: A-
Though his price-tag might have been gaudier than his numbers, the Argentine winger brought back plenty of the traits the Timbers lost when Rodney Wallace left for Brazilian football after the MLS Cup triumph: tenacity, hunger, hard running, and a reliable wing presence.
That's not to undersell Blanco's talent — he's got plenty of it and was second on the team in assists and third in goals — but it was his eagerness to work for the team and his competitiveness that won the Timbers over when they committed to him in the offseason, and those traits were on full display all year.
As long as Diego Valeri is around, Blanco won't have to do anything more than play off of him and be a second-level producer. It's a perfect role for the kind of player that every successful team needs.
#8 — DIEGO VALERI: A
He's going to be the MVP, and he's going to deserve it. 21 goals and 11 assists is one of the best MLS seasons of all-time. But you have to dive into the nuances of Valeri's year to understand just how incredible it was.
Valeri set a career high in minutes, scored five goals with his head after not scoring a single headed goal in his first four MLS seasons, became a true second forward after Fanendo Adi went out and promptly ripped off goals in nine straight games to keep the Timbers afloat in the Western Conference race.
It was a super-human effort. We've long been awed by Valeri's vision and range of technical skill, but this was finishing at a level that most of the league's best forwards could only dream of. From the first game to the last, Valeri was dialed in like we've never seen.
Beyond soccer, Valeri's adamant and unwavering support for the Thorns, the city, and the best of our values — love, respect, equality, justice — has made him the poster child for everything that is right with the club and the game. Brilliant, in every way.
#27 — DAIRON ASPRILLA: A-
This is one of the greatest success stories of the season. Asprilla's Timbers career seemed dead and buried when he was loaned back to Colombia last summer, but the winger worked for a second chance in Portland, and took that chance with aplomb.
Plenty of Timbers played this year with emotion, but no one wore their emotion quite like Asprilla did. That emotion, coupled with his phenomenal athleticism, provided several of the year's most indelible images — including an unforgettable, blood-curdling celebration after scoring against Seattle in June.
Asprilla is by no means a perfect player — his decision making is still slow and he's not especially dangerous one-against-one — but he's got all kinds of pop. He's a terror in the air, the team's best striker of the ball next to Valeri, and multiple times this year the fullback marking him had to be substituted. He was a tremendous asset.
#18 — AMOBI OKUGO: B
It was another trying season from Amobi Okugo, who started 31 games for Philadelphia in 2014 and has started just 15 games between three clubs in the three years since.
Okugo was buried on the Timbers' depth chart both at center back and center midfield this season, and then had the incredible misfortune of spraining his MCL on the last play of the Seattle game in June when he had finally gotten into the team.
That said, we've seen nothing over the last two years to suggest that Okugo can't be an everyday player again. He's got good instincts and is comfortable on the ball, and he looked at home in a high-intensity start in Chara's place against Houston in the playoffs. He just needs to start playing regularly again.
#14 — BEN ZEMANSKI: D+
After five years, it looks very much like Ben Zemanski is about to leave Portland a completely forgotten man.
It's feels like a long time ago now, but at the end of 2014, the Timbers went out of their way to protect Zemanski in the expansion draft for fear he'd be snatched away by Orlando or New York City. He was the penciled in as a starter heading into the 2015 season as Will Johnson recovered from his broken leg.
But then Zemanski tore his ACL in a preseason game against Vancouver and missed the entire year. He's never quite recaptured that 2014 form last season, and this year, he simply fell off the map — staring just four times, all during the teams injury crisis in July, going the rest of the season without getting on the field.
Zemanski put in honest shifts in those starts, but he's not good enough on the ball and no longer quick enough chasing it to be of real value. With his college coach gone, Zemanski will also likely move on this winter, with his career is hanging in the balance.
#23 — JACK BARMBY: F
It's something of a mystery why Jack Barmby was brought back to Portland for 2017. Young though he might be, Barmby isn't and almost certainly isn't going to be an MLS-quality player. Outside of striking the ball, he does nothing well.
Barmby didn't get a start this year, and made just two appearances of more than 15 minutes. It's time for him to move on.
FORWARDS
#9 — FANENDO ADI: B+
It was a year that started so brightly for Fanendo Adi. The big man broke the club goalscoring record a month into the season, and with the array of attacking talent behind him, it seemed he'd challenge for a first Golden Boot.
Then Adi, along with the rest of the team, started to slump. He scored just two goals from open play from May through July, with the low point coming when he was sent off against Real Salt Lake for charging Kyle Beckerman.
As it turned out, Adi's prettiest play of the season — a sublime back-heel assist for Alvas Powell against the Galaxy in early August — would be his last. Adi left the field feeling his hamstring, and never made it back as the injury simply refused to heal.
The Timbers missed their striker immensely down the stretch. The possibility of a transfer lingers, but Adi should be back with a vengeance in 2018.
#11 — DARREN MATTOCKS: B
He certainly isn't going to help your shape or help you hold the ball, but Mattocks did about as well as he could have when Fanendo Adi's injury made him the starting striker down the stretch.
Over those three months, Mattocks made most of his own luck. He covered a ton of ground up top, was always alive in the penalty area, and made himself an uncomfortable matchup for opposing center backs. There was a spotkick won in Seattle, and important goals scored against Orlando and Vancouver.
The big hole in Mattocks' game is finishing, and, at this point in his career, it likely always will be. With that in mind, there's an argument to be made that the next guy should have seen a portion of his minutes in the fall.
#17 — JEREMY EBOBISSE: B+
Though he certainly looked out of his depth at times — the final game of the year against Houston serving as an untimely example — Jeremy Ebobisse's rookie season was, like Farfan's, eminently promising.
Ebobisse had one of the performances of the season with a goal and an assist in a shorthanded win at Vancouver in July that snapped a six game winless run, and he continued to show flashes in substitute appearances down the stretch. He needs to get more minutes next year.