Oregonians watched this summer while our beloved Columbia Gorge burned, rained hot ash, choked us out like a UFC fighter on 'roids, and generally made us all feel very helpless, small, and sad. #worstsummerever
The damage is horrible, but it pales in comparison to what happened in early October in Northern California. The loss of property, businesses, and life from the Northern California wildfires was staggering, and there were some losses that made it hurt that much more for the canna community—namely, the cannabis farms in Sonoma and Mendocino counties.
California's recreational program will begin issuing licenses in January 2018, and those growers have invested all their resources in order to meet the requirements for licensing. They don't qualify for crop insurance like other farmers, they can't get loans like other business owners, and they won't qualify for federal emergency relief funds. It's almost as if the feds aren't looking out for cannabis business owners or something...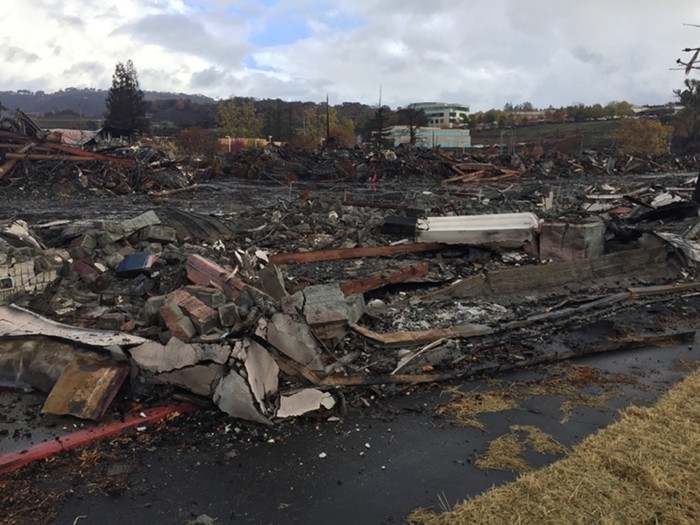 The California's Growers Association has started the Wildfire Recovery Fund to help aspiring licensees that have suffered a severe or complete loss of property. Their mission: to ensure that not a single grower fails to get a license because of wildfire-related hardship.
Matt and Meghan Walstatter, the couple behind Portland dispensary Pure Green, stepped up after hearing of a friend's loss of home and canna business, and decided to establish a great opportunity for Oregonians to help out the Wildfire Recovery Fund. Along with several others, they've started the Buds Without Borders campaign, and local cannabis research facility Phylos has agreed to a matching $8,000 grant, triggered once the campaign raises its first $8,000.
Having smoked a ton of awesome flower and hash from Northern California's Emerald Triangle, I can attest that when it comes to buds, there rarely are borders, nor should there be. Tossing this campaign the cost of a pre-roll will help out some hurting friends to the south. Learn more about how you can help at budswithoutborders.org.