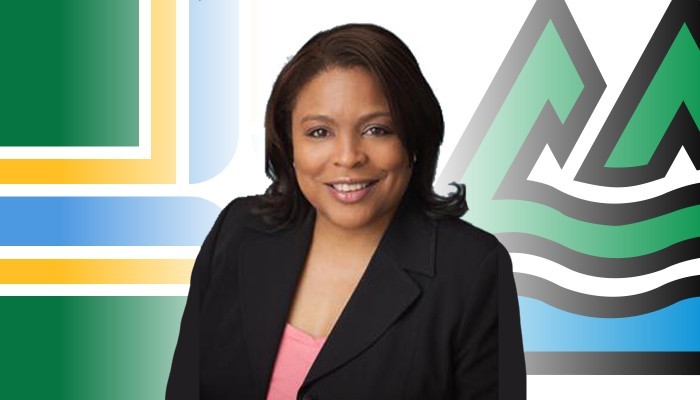 Multnomah County Commissioner Loretta Smith is facing two complaints today that she's violating both state and county campaign law in her bid for a Portland City Council seat that's up for grabs next year.
The complaints to the Secretary of State and Multnomah County were filed by Seth Woolley. Woolley is the state secretary of the Pacific Green Party and a longtime advocate for stricter laws for political fundraising. The complaints accuse Smith of improperly holding on to her county seat while running for Portland City Council (January 1 is when she can run for the city seat without having to resign from her county seat), of violating the county's strict campaign donation law that kicked in on September 1, and of improper record-keeping with the Secretary of State.
Smith's campaign spokesperson, Jake Weigler, essentially calls Woolley an attention seeker. The campaign has done nothing wrong, he said.
"This is a rehash of the same baseless accusations Mr. Woolsey [sic] made in the press, reflected by the fact that he sent this to the media as soon as it was filed," Weigler said in a statement. "We have consulted with legal counsel, as well as the County and State, and are confident we are in compliance with the law."
We've asked Weigler for copies of correspondence with legal counsel and officials with the county and state that said her campaign is legal, and we'll update this story if that comes in.
Many of the allegations in Woolley's complaints today were included in the Mercury's November 1 story ("Loretta Smith is Raking in Cash for a City Council Run: Is She Allowed to Keep Her County Job While Campaigning?"):
The two-term Multnomah County commissioner announced last month she'll be running for Commissioner Dan Saltzman's seat in the May primary. Smith has campaign logos and slogans on her Facebook page, and a website: lorettaforportland.com. Her candidate committee is raking in thousands of dollars in contributions from deep-pocketed developers. She's got a campaign staff.

But to hear Smith's campaign consultant tell it, she is not currently running for city council.

"She's indicated she intends to run for Portland City Council," consultant Jake Weigler told the Mercury last week. "She has not formally filed for office."

Weigler—and Smith, who referred all questions to him—have reason to be cautious. Under Multnomah County rules, Smith would need to give up her current position if she begins a formal run for City Council before January.

But the current limbo the commissioner finds herself in comes with fraught questions—especially after voters enacted strict campaign finance limits for Multnomah County elections last year. Smith's raising money as if she were running for city office, and disregarding those new county limits in the process. But she's not technically filed to run for city office.
Woolley told us at the time "There appears to be violations. Once you start behaving like a candidate (for another elected office before the final year of the term's up), you have to resign" from the Multnomah County Board of Commissioners. He said in October he was investigating Smith for campaign violations and may file complaints. Today he filed those complaints.
"In the attached complaint, I allege that Ms. Smith's campaign violated multiple sections of the Multnomah County Charter and Code in two ways related to the elections," he said to the county elections office and county attorney. "First, the County forbids running for certain other offices while serving midterm as a County Commissioner. Second, the county forbids big money donations for the County elections, which Ms. Smith is formally recording in her ORESTAR account for County Commissioners."
He asked the Secretary of State to "order Ms. Smith's candidate committee return all contributions received since January 1, 2015, and then order the candidate committee resolved... Ms. Smith is apparantly running for Portland City Commissioner and has been receiving large contributions for that purpose without creating a candidate committee that correctly identifies the office she is seeking."
Like in the Mercury story earlier this month, her campaign is not backing down.
"We hope Mr. Woolsey [sic] will join us and focus his energy on solving problems for the most vulnerable in our community," Weigler said today. "There's no time for political posturing when so many of our neighbors continue to sleep on the streets. Our focus is on offering solutions to these problems—not responding to baseless claims."
***
Woolley's complaint to the county:

Woolley's complaint to the state: