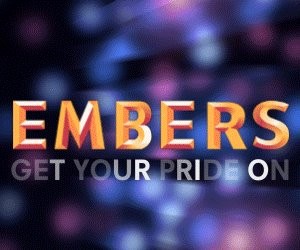 Welcome to December, Portland. While all your attention is directed at Michael Flynn, some other things have or will soon be going down when it comes to dining out. Here's the latest.
Embers' Last Dance
After 48 years in the drag show and dancing game, the gay bar Embers Avenue shuttered early this morning at 2:30 am. You can read our reporting on the closure here.
Street Roast Goes Live
Street Roots, the houseless and poverty advocate, is teaming up with Marigold Coffee for a new line of beans. The first one, a blend called The Messenger, goes on sale at 10 Portland New Seasons locations this weekend.
The Face of Nick's Famous Coney Island Has Died
The Oregonian reports that Frank Nudo, the man who ran the blue collar joint Nick's Famous coney Island from 1960 to 2008, passed away on November 11 at the age of 83. RIP and godspeed, Frank. You're missed.
Chicken, Ramen, and Food Carts
Eater PDX had its fingers all over food news map this week reporting that Maya Lovelace's Mae pop-up is negotiating a brick-and-mortar lease at the old Delphina's Bakery space; that the Southeast wine Collective has upped its food game with new dishes under a new Oui Wine Bar + Kitchen banner; that Boxer Ramen has opened a fourth location in the short-lived Americano space on East Burnside; and that the Lents neighborhood is getting its own food cart pod courtesy of Flipside Bar and Carts.
McMenamins' Cedar Hills Reopens
If you're a Beavertonian, or should you find yourself passing through the suburb, there's a newish bar in town thanks to McMenamins' reopening its Cedar Hills pub directly across the street from its old haunts. Expect 40 tap beers and ciders and a spacious outdoor patio complete with fire pits.
In Other News...
Multiple businesses are joining together to raise fund for the people—and pets—of Puerto Rico thanks to the restauranteuring organizers at Ataula; Little Bird and Little Beast Brewery are teaming up for a beer dinner on December 4; Stacked Sandwich Shop/PN26 is throwing a big Italian feast on December 7; Mississippi Avenue's Radar is celebrating five years on December 8 and 9 with an all night $5 happy hour and a chance to win one of five $50 gift certificates; and Salt & Straw is holding a contest this month: Anyone who orders a pint of ice cream from its online store will be automatically entered into a drawing, the winner of which will work with the ice cream makers to design their own personal ice cream flavor.