The Blazers were expected to win this one, but that's not how it went down. New Orleans showed up without their star forward Anthony "The Brow" Davis and the Blazers came out firing in the first quarter. But things fell apart towards the end of the second period as Boogie Cousins made his presence known once again in Portland. He dominated the Blazers to the tune of 38 points and New Orleans never trailed in the second half. The final score was 123-116 but it wasn't even really that close.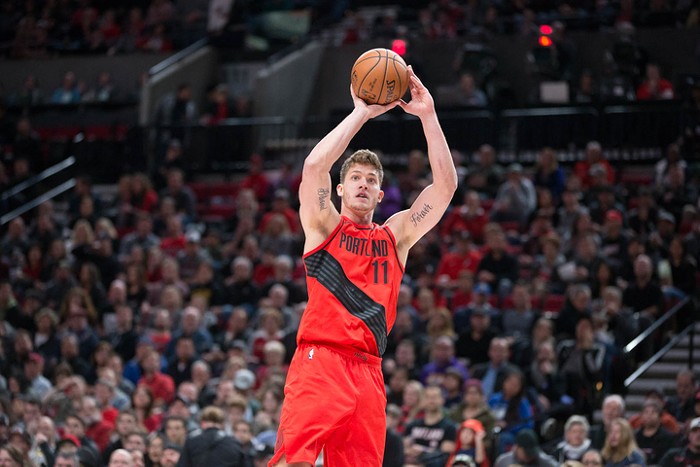 This was a mostly forgettable game for the Blazers except for the interesting narrative surrounding the player pictured above, much maligned 7 footer, Meyers Leonard. In the previous game some fans took to booing Leonard after he made a series of mistakes. Portland fans don't usually boo their own players but there's been frustration brewing over this guy for a while. Many wondered whether he would see playing time against the Pelicans, and sure enough he did. Leonard played pretty well too, scoring 17 points and slugging it out with Cousin down low. It wasn't pure redemption, but it was a start.
Some fans even held up hand made signs of encouragement for Leonard: "Meyers the Magnificent" and "Keep Shooting Meyers!" The crowd was clearly behind him on this night, maybe even feeling a little bad about the booing at the previous game. Here we see Meyers trying hard to keep Boogie Cousins from the basket. It was a tough job and for the most part he wasn't able to do it. But to be fair, no one else could stop Cousins either.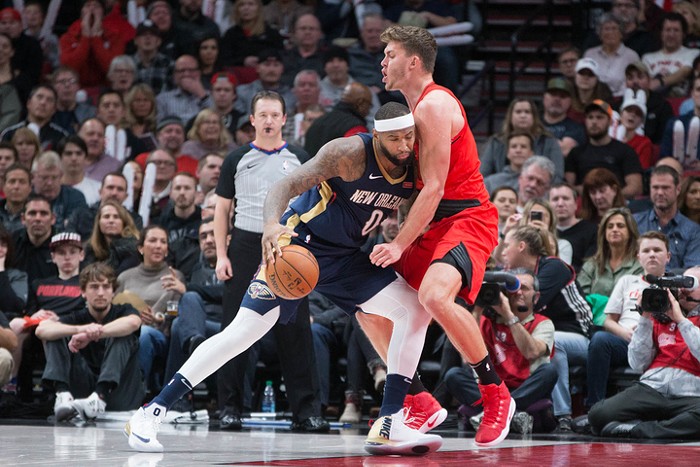 The Blazers led most of the first half but then New Orleans picked up the pace, hitting a crazy percentage of their three point shots (48%) and closing the gap quickly behind Cousins' brutal drives. New Orleans took the lead by 3 going into the half. Let's get a look at what the fans were wearing during halftime, shall we?
The gal had on an awesome vintage Terry Porter T-shirt. She also explained that she loves Terry Porter so much that she named her dog Porter. One of those beers was for someone else, she said.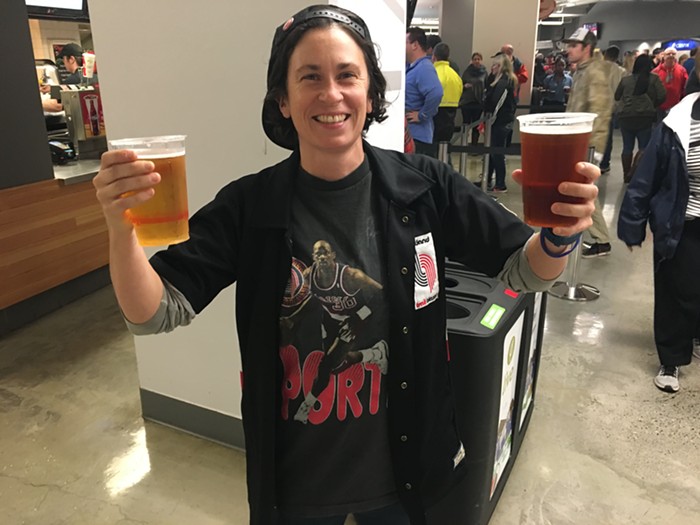 Incubating Blazer fan:


Cool kids:


Both of these guys had blinking lights embedded in their holiday themed sweaters. Festive!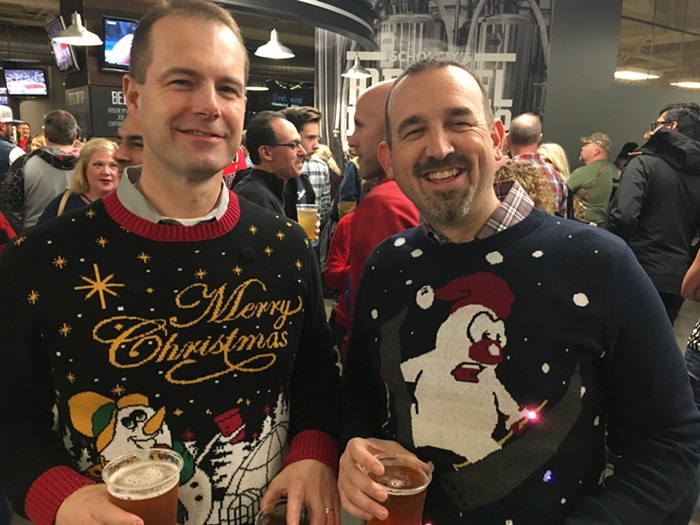 Instilling Blazer love: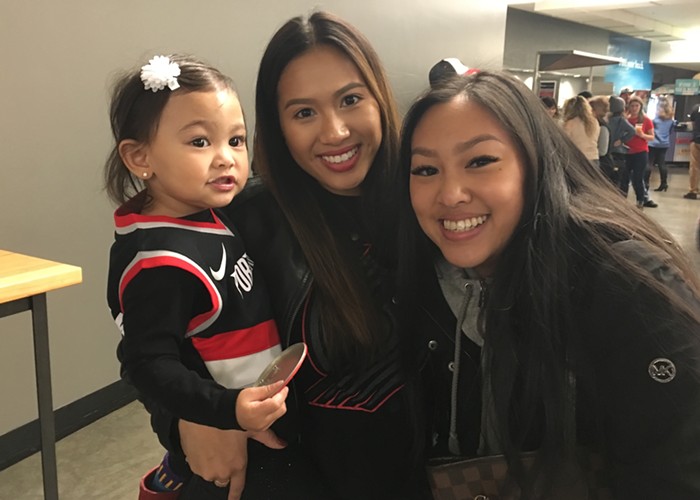 Every so often I see Sonics gear on display at a Blazers game. It's a little confusing since the Sonics no longer exist and there were no former Sonic playing on this night, but this guy explained that he was in town for a bachelor party and just wanted to remind everyone that there used to be another NBA team up the road.:


The second half was mostly a bummer for Blazers fans. Once in a while the Blazers would make a run or Lilliard would hit a nice shot, but New Orleans scored at will. Part of it was luck on their part as players like Rajon Rondo and Tony Allen, never good 3 point shooters, both drained multiple shots from deep. Meyers and Boogie got in a few scuffles and Coach Stotts was slapped with a technical for yelling at the ref. The crowd jeered at several close calls and tried to swing the momentum, but nothing really took hold.
This year's Blazers have had uncharacteristic trouble winning on their home court. Coach Stotts addressed that after the game, saying, ''Yeah, we need to be better. If we want to be the team that we want to be, we have to be better at home. There's no question.''
It was a night to move on from for the Trailblazers and hopefully they will do just that. They face the Washington Wizards on Tuesday at the Moda Center. It should be a good game as the Wizards will be looking to avenge a crazy comeback win in which the Blazers stole one in Washington a couple weeks ago.