Portland received a rare visit from A Perfect Circle this past Saturday at the Veterans Memorial Coliseum. With Vicks VapoRub on his feet and plenty of dad jokes, the always-introverted Maynard James Keenan led the band through a 19-song setlist that included "3 Libras," "The Noose," and "Weak and Powerless."
At one point Keenan busted out two Shake Weights and moved them in an aggressively rhythmic manner for no particular reason—a friend just suggested he should.
The final song, "Dog Eat Dog," was played as a tribute to the late Malcolm Young, cofounder and rhythm guitarist for AC/DC. It was a vibrant performance that satisfied some fans enough to scream, "I can finally die happy!"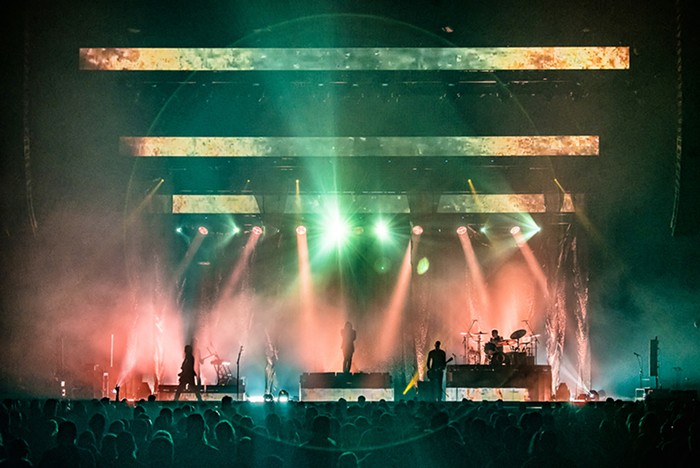 Setlist after the jump!
The Package
The Hollow
The Noose
Weak and Powerless
Rose
Imagine (John Lennon cover)
Thomas
People Are People (Depeche Mode cover)
Feathers
Thinking of You
Vanishing
Blue
A Stranger
3 Libras (All Main Courses Mix)
Hourglass
Counting Bodies Like Sheep to the Rhythm of the War Drums
The Doomed
The Outsider
Dog Eat Dog (AC/DC cover)