Good morning, Portland. Hit these links.
First up is this week's feature (pick up a print copy) from Emilly Prado about Portland Ballroom: "a monthly gathering that continues the decades-long tradition and evolution of drag balls."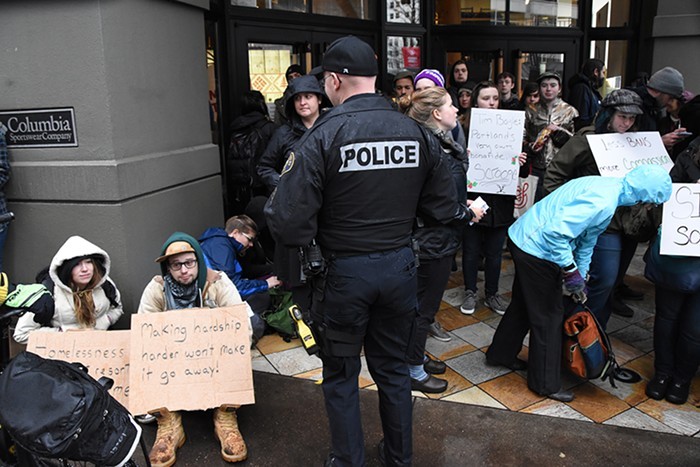 Dirk VanderHart's news story about the anti-homeless sidewalk sitting ban: "While Portland's had its current rule enabling no-sit sidewalks on the books since 2010, Wheeler's recent expansion—and the fact that it plainly came at the behest of business owners like Columbia's Tim Boyle—has been met with anger from activists and civil rights groups alike. It's got a lawyer who had a hand in dismantling Portland's former anti-sitting law crying foul, and also raises questions about whether these new no-sit zones were created in line with city policy."
The conditions for kids locked up a the Northern Oregon Regional Corrections Facility (NORCOR) are terrible, a new Disability Rights Oregon report says.
Didja see that Sufjan Stevens wrote a song about Portland's Tonya Harding?
In the Oregonian: "Portland Mayor Ted Wheeler on Wednesday launched a series of tweets at U.S. Housing and Urban Development Secretary Ben Carson for saying on NPR that government funding is not the only solution to the West Coast's growing homeless population and affordable housing crisis."
Two owners of a prominent cannabis lab have resigned after getting outed as white supremacists.
"Legislative officials have agreed to pay a labor law attorney $290 an hour to investigate two female state senators' accusations that Sen. Jeff Kruse sexually harassed them," the Oregonian reports.
On a related note, on KGW: "Oregon Senator Sara Gelser is featured as one of Time Magazine's 'Silence Breakers,' which the magazine named the 2017 Person of the Year. Time profiled some of the most notable women of the #MeToo movement, which shed light on rampant sexual harassment and misconduct at the workplace and beyond. In November, Gelser filed a formal complaint against Oregon Sen. Jeff Kruse detailing years of inappropriate conduct. Her complaint led to more than a dozen similar complaints from women against the senator."
A Clackamas County couple is accused of stealing tens of thousands dollars from an elderly disabled man.
This is so depressing:

Forecasters were using purple on maps to indicate an "extreme" fire risk, which was called an unprecedented designation https://t.co/OYJ7DlSTFj
— The New York Times (@nytimes) December 7, 2017
Relatedly:

The most accurate climate change models predict the most alarming consequences, study finds https://t.co/IzGiCvk7bK
— Washington Post (@washingtonpost) December 7, 2017