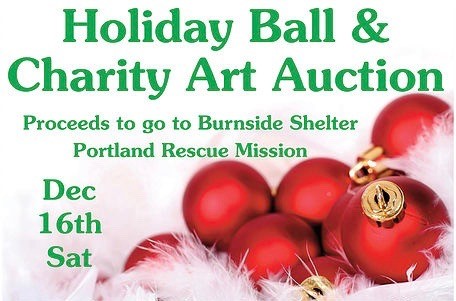 This Saturday, December 16, toddle on down to the
NW Cannabis Club
(1195 SE Powell) to support a great cause. And bring your weed.
The Holiday Ball and Charity Art Auction is a benefit for the Portland Rescue Mission on Burnside, and will feature art in its many forms, including "functional glass pieces," and no, I don't means vases.
Take a break from the holiday madness ("Does this gift for a person I'm not sure even likes me cost too much, or too little?" "Why am I spending $900 on airfare to fly someplace freezing to argue with drunk relatives again?") and go someplace warm and welcoming so you can check out art, but stay with me—you can do it while getting high.
NW Cannabis Club doesn't sell cannabis, but you can consume it there, using their house collection of implements including e-nails. You can walk in, sit down, get high with your friends, check out art, then bid on it. Think you can do that at a regular auction at, like, Christie's? Blazing a blunt in an auction house surrounded by clench-jawed WASPs with more money than god? That scenario won't end well. Trust me.
So, support a small local business that's auctioning off art from local artists, which will go to help a rescue mission. And do it while partaking of cannabis. Hell, offer to smoke out someone else there. Make a friend. Share what you have. That's what the holidays are really about.
It happens tomorrow at NW Cannabis Club at 1195 SE Powell, starting at 6 pm. Facebook event here.