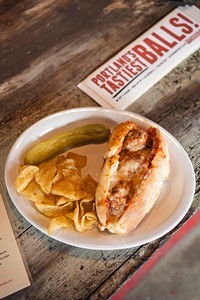 Let's dig in.
The Oregonian reports that John Gorham, the man behind the Toro Bravo and Tasty n Sons empire, is taking time off to undergo brain surgery after doctors noticed a small and possibly benign lesion; and that Adam Berger's 24th and Meatballs is getting a new sibling this month: Broadway and Meatballs will open at 515 SW Broadway before the year ends. The restaurant joins Berger's meatball stable, which also has locations in the Ocean micro-restaurant complex and in St. Johns' Two-Thirds building. Expect lunch and dinner options dedicated to the titular meatball.
The Willamette Week reported this week that Jon Horrid, owner of the Lovecraft Bar, has been forced out after multiple anonymous accusations of sexual assault over the last seven years surfaced online. Horrid will reportedly sell the bar to its current manager, Brooke Moreno, in the wake of a boycott movement and after multiple threats targeting the bar's staff. Horrid denies the allegations.
Portland Monthly broke the news that two shuttered food and beverage carts—Ole Latte and Picnic—are resurrecting themselves and teaming up to share a new space at 1410 SE Clinton. Here's the takeaway: The cafe will seat around 10 people, with the Picnic cart operating just outside the front door; the space will be defiantly wi-fi free; there will be a drive-through window for bicyclists; and you can anonymously purchase a coffee drink which can be claimed later that day for someone who can't afford it. PoMo says to prepare for an opening within the next few weeks. Likewise, the magazine reported the opening of Sterling Coffee Roasters at 518 NW 21st. The new 950-square-foot space is a lot larger than its last two locations, which measured just 200 and 50 square feet.
Eater PDX has the news that the burger maestros at PDX Sliders have opened up shop in the old Sunshine Tavern space at 3111 SE Division; that Nimblefish, a new sushi restaurant with Fukami and Hokusei street cred (both shops recently shuttered) is posting up in the old Boxer Sushi space at 1524 SE 20th; and that Dub's Chicken and Waffles is leaving behind its kitchen duties at the dive bar Ranger Tavern for its very own brick-and-mortar at 8537 N Lombard up in St. Johns.