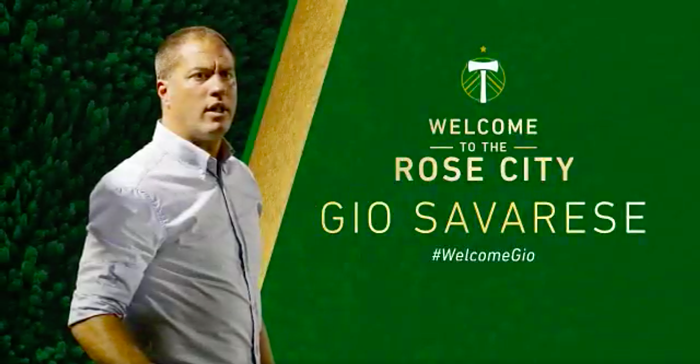 The Portland Timbers announced Monday morning that 46-year-old Caracas native Giovanni Savarese will replace Caleb Porter and become the club's third ever MLS manager.
Savarese joins the Timbers from the New York Cosmos, where he spent the last five seasons guiding the historic club to three NASL championships and 71 regular season wins — three more than Porter racked up in Portland.
ESPN's Taylor Twellman first reported the hiring on December 12. One day later, Saverese left his post with the Cosmos — to plaudits from former players Raul, Marcos Senna, and Juan Arango. This will be Savarese's first job in MLS.
Since Twellman's report nearly a week ago, one thing has become abundantly clear: Savarese is universally respected and liked in American soccer circles. He's has a lot of people rooting for his every success.
Savarese first arrived in the U.S. in 1990 to attend Long Island University, where he scored 50 goals and latched on with the Long Island Rough Riders of the A-League before signing with the MetroStars ahead of their expansion season of 1996 and becoming a cult hero by banging in 41 goals over three seasons in red and black.
Savarese's career eventually took him across MLS and the world, with stops in New England, San Jose, Swansea, Millwall, Italy, and Venezuela before he went back to Long Island finish his career and then rejoin the MetroStars — by then rebranded as the Red Bulls — as their youth development director in 2005.
He departed several years later, but stayed in New York and was tabbed to lead the Cosmos' youth program in 2010 as they readied themselves to relaunch as a competitive club. Savarese got the top job ahead of the Cosmos' debut NASL season in 2013, and all they've done since — even after crippling financial problems led the club to sell the vast majority of its roster last winter — is win.
Savarese was on the brink of making the step up to MLS several times before, but a seven-figure buyout in his Cosmos contract scared off the likes of Houston and Minnesota last year.
But Savarese was firmly on the market and ready to move this offseason as his contract in New York expired. He interviewed for the New England job in October, but the Revolution opted to hire former U.S. goalkeeper Brad Friedel — a close friend of the club's GM Michael Burns.
The Timbers reportedly inquired as to the availability of New York's Jesse Marsch and Columbus' Greg Berhalter, as well as sounding out the likes former England manager Steve McClaren and Northern Ireland manager Michael O'Neill per Stumptown Footy's Chris Rifer, but Savarese was both available and a natural fit.
It's not hard to figure out why. Though they took very different paths to Portland, there is plenty in Savarese's profile that recalls Porter when he arrived more than five years ago.
Like Porter, Savarese is relatively young. He's known for playing attacking, possession-based soccer. He's intense. He arrives in MLS after a long wait, accustomed to success, and ready to prove himself on the biggest stage of his managerial career.
All of that is greatly encouraging. There was no need to reinvent the wheel with this hire. You want coaches who are highly competent, driven, and play quality soccer. If Savarese is also the kind of person we've heard he is over the last week, he'll have great success here.
The Timbers have their man. Preseason is just over a month away.