The Blazers faced off against conference rivals the Denver Nuggets in what should have been a close and hard fought game, but whoo boy this one sucked. Our hometown Blazers were out-hustled and out-gunned all night losing their sixth straight home game. SIX HOME LOSSES IN A ROW! Loud booing rained down from the crowd throughout the second half. It was a sad night. The final score was 105-85.
It's true that the Blazers were without star point guard Damian Lillard due to a leg injury, but they've fared alright without him in the past. A game like this should have been an opportunity for players like CJ McCollum, Shabazz Napier and Evan Turner to step up. But they didn't, for the most part. Second year forward Jake Layman started in Lillard's place, an odd choice. Jusuf Nurkic, who usually goes off against his former team, had a quiet night as well. Perhaps everyone was just pre-occupied with the upcoming holidays...
Forward Noah Vonleh dislocated his finger early in the game, a tough break. No word as of yet when he'll be back. The Blazers were down 11 at halftime and at that point many fans still expected things to turn around. Let's have a look at the holiday cheer in the hallways during the break, shall we?
Festive sweaters and headbands!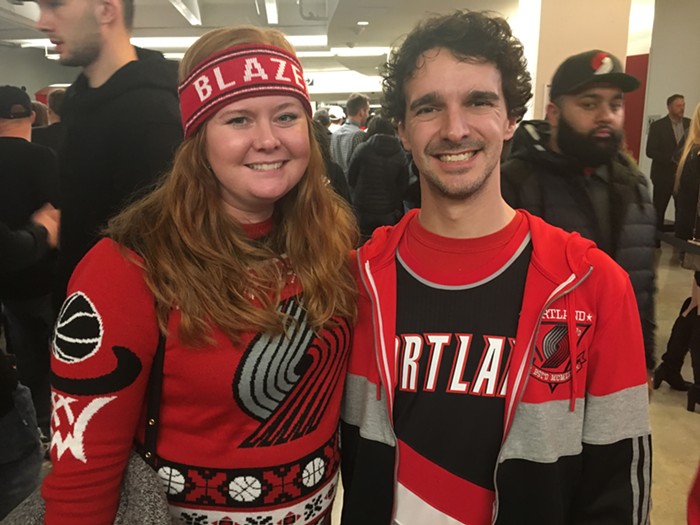 This kid wore his holiday pjs to the game:


A full-on holiday suit!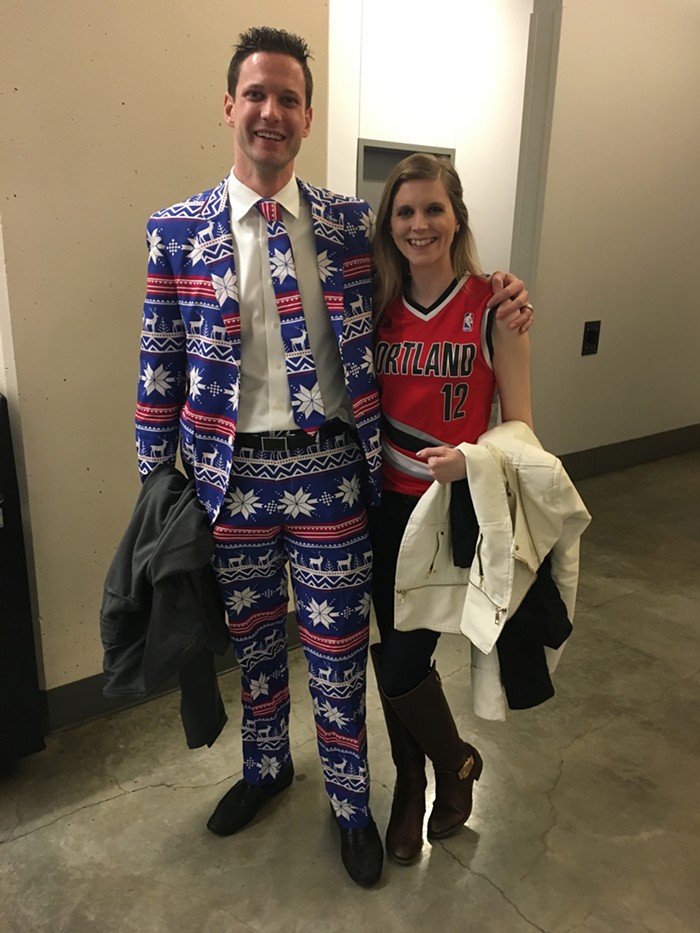 These folks had the holiday spirit even when their team didn't: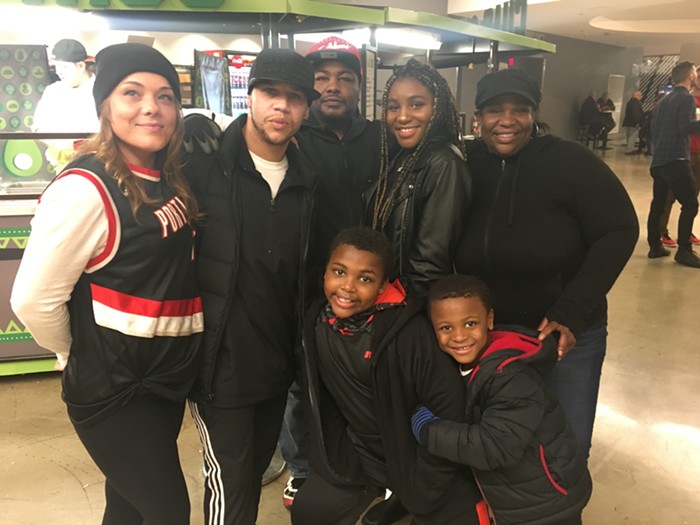 Same with these guys!


Alright, was there anything redeeming about this game? Sure, rookie Zach Collins continued to look pretty good. He scored 10 points, the first double digit outing of his young career. Here he is taking a shot:
It was tough hearing the hometown crowd boo their team. The boos generally came after the Nuggets scored on an easy play and the Blazers seemed asleep. No one liked seeing former Blazers like Mason Plumlee and Will Barton lighting it up against the guys who were brought in as supposed improvements.
Last year the Nuggets and the Blazers battled down the the final games for the 8th playoff spot. It's entirely possible they could do the same thing again this year and it that case every game against them really matters. Personally, I think this year's team is better than the Nuggets, but you wouldn't have known it on this night.
Grumblings are growing louder about some kind of shake up in the coaching staff, but wise fans should be willing to ride this rough patch out a little longer. The home game losses sure do sting, but the players want to fix that more than anyone else. Here's what Jusuf Nurkic had to say after the game: "For some reason we have a problem at home. We definitely want to win at home. If you want to be a playoff team you have to win at home. For some reason we have an issue right now, but like I said, there's no quit, so we need to fight and figure it out."
The Blazers play the Lakers tonight in LA at 6:30pm. A shot at redemption!