Before he'd even released a proper album, and before hardly anyone in Portland knew more than one of his songs, Aminé played his first-ever concert one year ago at the sold-out Roseland Theater. It was an imperfect coming out, as he didn't yet have enough material to fill a one-hour set. But that was to be expected, and fans were forgiving enough to again sell out his next show at the Crystal Ballroom.
Since then, Aminé has been included in XXL magazine's coveted "Freshman Class," cozied up to Malia Obama at Lollapalooza, and, most importantly, dropped his major label debut, Good for You. Now the prodigal son is returning home for a two-night run at the Roseland—exactly one year after that first show—equipped with the material and swagger of a bona fide star. While Portland would've rooted for Aminé no matter what, Good for You actually slaps, and that makes his success even more exciting.
He's called Los Angeles home for the past year, so it's too soon to know whether he'll forget his hometown someday, but so far his hometown hasn't forgotten him—tickets for both nights have sold out. But if you're going, please do yourself and everyone else a favor: When Aminé performs "Caroline," and he comes to that word (you know which one), heed the advice he gave the audience at his NPR Tiny Desk Concert: "If you ain't Black, don't say it."
Sponsored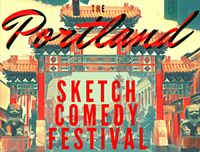 Sketch comedy troupes from all over N. America descend on The Siren Theater for 3 glorious nights.