As everyone's favorite food critic, you may have noticed I have opinions. And while 2017 continued to be a grinding hellfire crawl through a spike-filled tunnel whose end we cannot see, TV was a great respite. It gave us diverse leads and voices, gorgeous scenery, and so many lacquered layers of dough.
Sponsored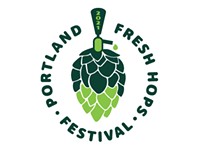 Come celebrate fresh hop season! With over 50 fresh hop beers, there's something for everyone!
There was a lot of good TV this year, and my Top 10 list is based mostly on the criteria of how badly it made me want to tune in to the next episode, as well as how hard it make me think/laugh or cry.
1. Big Little Lies
This prestige soap from Reese, Nicole, and Shailene was so much more than a chick show. Sure there were petty disputes over birthday party invites (which were also hilarious), but this ensemble featuring Reese Witherspoon, Nicole Kidman, Laura Dern, Shailene Woodley, and Zoe Kravitz put those seemingly low-stakes issues into the context of real women's lives that were portrayed with real depth. And just like some of the other shows on this list, the ending, involving women banding together to fight domestic violence, was an unintentional salve to the wounds inflicted last November.
2. Handmaid's Tale
I read Margaret Atwood's book for the first time in early 2016, before I knew of the horrors that would unfold later in the year. The Hulu adaptation arrived in our lives with similarly uncanny timing, a shocking dystopia that really doesn't seem that it could be too far from our own—women's rights under siege, the inability to stop a fascist tide. Still, there's a small glimmer of hope from our heroine, Offred (Peggy Moss).
3. Better Things
I really hope Louis C.K.'s involvement with this searing, dark, and funny FX comedy from Pamela Adlon doesn't sink it. Like Louis, it's a parallel-universe take on the actor's real life, this time with Adlon starring as a single mom of three. It's harsh, occasionally shocking, and it feels more real than almost any other show out there.
4. The Good Place
There are plenty of network shows that I watch every week (This Is Us, Fresh Off the Boat), but this Kristen Bell-helmed comedy about the afterlife is the best broadcast show since Parks & Rec. It's hilarious and sincere, with an actual philosophy lesson about what it means to be good hidden away. Also the humanoid/Alexa-like assistant, Janet (D'Arcy Carden), is crazy bonkers and funny.
5. Game of Thrones
You've already made your mind up on GOT: you love it, or you are a weirdo who is wrong. This season really upped the narrative ante, with all of us shipping that Jon and Dani thing maybe a little too hard considering they're related. This short-run penultimate season has me dying for the next to start.
6. Great British Baking Show
In a nerve-wracking year, this is my visual Xanax. Everyone is so supportive, so inventive, and so collaborative. And there are snacks involved. I'm nervous for the next season, since it will be absent those two obnoxious host ladies and Mary Berry. At least I'll still get to hear Paul Hollywood say "sponge" in his Scouse accent.
7. Master of None
The second season of this Aziz Ansari show was at its best when the trite love story between he and a manic-pixie Italian girl weren't the focus—like the bottle episode "New York, I Love You," following various New Yorkers in their daily lives, or watching Aziz's longtime friend, Denise (Lena Wiathe) come out to her African-American family and the poignancy of coming to peace over 25 years. Oh, and that plotline with gross creeper "Chef Jeff" was also prescient, turns out.
8. Glow
I don't like Mark Maron, but I loved him in this Netflix turn about women's wrestling in the '80s from wonder-creator Jenji Kohan (Weeds, Orange is the New Black). I also loved that Mr. Maron's sleazy wrestling organizer (who could have easily been one of those anti-heroes that are sooooo 2008) takes a backseat to the lives of his female wrestlers—their backstories, their struggles, their shiny leotards. It's a real joy.
9. Insecure
I love this show, and all of its beautiful, flawed characters. Born of Issa Rae's YouTube show, The Misadventures of Awkward Black Girl, the second season of this show featured more depth from all of the characters, more heartache for Issa, and one of the best depictions of female friendship in the 2010s out there.
10. The Young Pope
So absurdist that it got to be that my husband and I couldn't get through the intro scene where Jude Law's hot pope winks at the camera without bursting into laughter. Surreal, beautiful, and completely out there.
Honorable Mentions:
Crazy Ex Girlfriend and Bojack Horseman (consistently amazing, both tackling mental health in ways other TV won't dare), as well as the final season of Girls (I've since broken up with Lena Dunham, but there are some amazing episodes in this last season).
Shows I started this year and am not caught up, but am loving:
The Americans (A+ 100 percent), and Riverdale (so much more than a hate watch).