Although first-time writer/director Jordan Peele is known primarily as a sketch comedian, Get Out is not a comedy. After the film was nominated as one for a Golden Globe, film writers started a little Twitter brushfire over whether or not the nomination made sense (it doesn't), prompting Peele to respond: "At the end of the day, call Get Out horror, comedy, drama, action, or documentary, I don't care. Whatever you call it, just know it's our truth." While Get Out is frequently funny in a gallows humor sort of way, it's not a comedy. It's not a doc either, despite being built on the undeniable truth that America has never stopped fearing, fetishizing, and commodifying Black people. And even if the film's plot didn't steer hard into metaphysical sci-fi grotesquery—crashing into unnerving surreality like a stray deer darting into the road—the truth that anchors Get Out lends its scares both potency and resonance. It's not only a full-blown horror film, but one of the genre's all-time best. (dir. Jordan Peele; available digitally and on Blu-ray)
The Portland Mercury's Super Cinema Strikeforce™ had a bunch of other favorite movies in 2017, too! Check them all out here.
Sponsored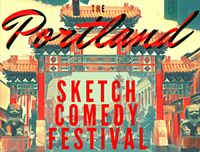 Sketch comedy troupes from all over N. America descend on The Siren Theater for 3 glorious nights.