Sponsored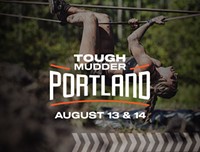 Lock in your summer adventure, Portland. Join us for world famous obstacles over a 5K or 10K distance.
Shortly after an Amtrak train carrying 100 Republican lawmakers and their staff ran into a truck outside Charlottesville, Virginia, on Wednesday morning, the news made its way onto Facebook. There, fake news posts and rumors that the crash was a "deep state" conspiracy quickly began circulating and made it onto Facebook's Trending News section, as the Daily Beast first reported:
"I want to know if Rep. Devin Nunes was on this train and how Hillary still has the power to order these kinds of strikes," reads one post, affixed to an ABC News story.

Another post, linking to a Daily Caller article, claims it knows the "real reason Capitol Police… would not let any (legislators) get off of the train," referring to a deeper conspiracy theory not listed in the linked article.

"This was a set up for a small arms and explosives attack upon Republican Congressmen and their families by either rabid, Commie-Lib-Dim 'resisters,' or Muslim jihadis, in, unfortunately, that order of probability," wrote that user, whose post has 12 shares and 55 comments.
The false stories were further spread by sites like Gateway Pundit, a pro-Trump fake news site that somehow managed to get a troll into the White House press corps. InfoWars got in on the action, too, insinuating that the accident, which left one dead and two others injured, was either a cyber attack or, as Alex Jones put it on his radio show, "A truck kamikaze rammed it, a cement truck, a big truck, a dump truck kamikaze rammed it. And Paul Ryan was on board. There's one dead. A bunch of people injured. But what's the odds of this? No, this is a message, you better believe it. And they're going to spin it and try to, 'Oh, it's no big deal, everything's fine.' 'Oh, Vegas isn't Islamic.' Of course it's come out it has." (It has not.)
This is hardly rare: Every time there's some kind of national tragedy, the purveyors of fake news latch onto it, from Sandy Hook, which Alex Jones alleged was faked by gun control activists, to the Amtrak derailment outside Olympia, which prominent leaders of the alt-right blamed on anarchists.
Facebook reps, for their part, said they would do better, but even if they can filter fake news out of your newsfeed, they can't stop Facebook users from posting their own idiotic and misinformed theories, which is why the stories start trending in the first place. So what should you, as a user, do about it? For one, when something seems off to you, check Snopes, an independent fact-checker that can easily put most of the bullshit stories to rest.
Unfortunately, fiction often can't be simply countered by facts. Thanks to research on cognitive dissonance and confirmation bias, we know that when faced with evidence disproving something we believe to be true, instead of changing our minds, humans tend to double-down. This, in part, explains why we're so susceptible to fake news. Of course you believe that Donald Trump said that he'd run for office as a Republican because Republicans are the dumbest voters in the country. He didn't say it, but it sounds like something he would say, right?
So the problem is with Facebook, but it's also with us, and the first step to combating fake news is to understand why we believe it (read this!). Facebook may be the gun, but when it comes to believing what you see, it's users who pull the trigger.
Sponsored
Virtual Auction Event & Drag Queen Fashion Show. You won't want to miss this show!