Sponsored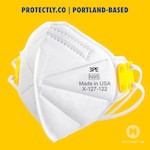 We have USA Made N95 masks available. Order N95, KN95, Surgical, Face Shields, Thermometers. Click here and USE CODE MERCURY FOR EXTRA 5% OFF.
In general, food news often tends to be either "Yay, this new place is opening!" or "Boo, another beloved restaurant bites the dust!" But this week, media outlets were on top of hard food news with alleged abuses and I've-had-it striking workers. But there was one ray of silly hope: We got a pub where you can adopt and rescue puppies and dogs.
KGW reported that after a decade of negotiations (and thanks to a class action lawsuit), former Le Cordon Bleu culinary school students will receive at least some money that was doled out for preparing them for what amounted to entry-level kitchen positions rather than the glamorous path-to-restauteurship that was seemingly promised. KOIN had the news that the owner of Lake Oswego Thai restaurant Curry in a Hurry has been charged in federal court for forced labor and falsifying visa applications. And according to Eater PDX, Burgerville workers are on strike to demand better working conditions and a living wage.
The Portland Business Journal dropped the news that the CEO of New Seasons is stepping down and that the local grocer will halt its expansion into California, effectively canceling three openings scheduled for this year. This news, of course, comes only months after the Oregonian reported that unionizing New Seasons workers accused the company of retaliatory union-busting against local employees.
But this week hasn't been all hard news. We visited Modern Times Brewing's new vegan top house shortly after it opened in the old Commons Brewery space and were pleasantly delighted. Our fearless food critic declared that Trent Pierce's recently re-opened seafood restaurant Roe, now open in its new downtown digs, is one of this city's most important. We rounded up a bunch of Valentine's Day dining options for all you procrastinating lovebirds. And a source tipped us off that Willamette Week's beer writer Martin Cizmar is leaving to work for the website Raw Story.
Lastly, KOIN reported late last week that Tigard is now home to Fido's Tap House, which seems to be the world's first bar where you can roll in for a pint and leave with a rescue pup you can adopt onsite. And going off a Tweeted photo, the O chased down a lead that cult California burger franchise In-N-Out might be opening a location in Salem. Turns out that the Twitter photo announcing a new Salem outlet was a hoax, but after contacting the fast food burger chain, reporters learned that the company is, in fact, considering such a move.