Sponsored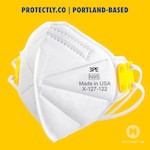 We have USA Made N95 masks available. Order N95, KN95, Surgical, Face Shields, Thermometers. Click here and USE CODE MERCURY FOR EXTRA 5% OFF.
If religiously watching all Olympic figure skating events is a hobby you've diligently cultivated since childhood (I know I have!), I don't have to tell you that Adam Rippon's swan arms are perfect, and I REALLY don't have to tell you that Mirai Nagasu is now the first American woman and only the third woman from any country to land a triple axel at the Olympics. Here's video of it if you want to cry:
"HOLY COW!" You just witnessed a historic triple axel from Mirai Nagasu. #WinterOlympics https://t.co/NsNuy9F46h pic.twitter.com/jCMTb4LtXv
— NBC Olympics (@NBCOlympics) February 12, 2018
Will she be able to replicate it in her individual long and short programs? Who cares! (I REALLY do.) To celebrate, let's revisit some great moments in figure skating.
Here's Mao Asada's triple axel from the 2010 Olympics in Vancouver. Apologies in advance for the tremendously rude commentary (praise be 2 Tara Lipinski and Johnny Weir):
Here's Surya Bonaly's badass decision to make the most of an Olympic competition she knew she wasn't going to win by doing A BACKFLIP AND FINISHING WITH HER BACK TURNED TO THE JUDGES. I FUCKING LOVE SURYA BONALY:
And here's Oksana Baiul's Swan Lake-inspired routine from the 1994 Olympics, which I am including for costuming and choreography reasons:
And no discussion of great moments in skating is complete without Tonya Harding's iconic triple axel:
Speaking of Rippon: Tomorrow night, he'll compete in the men's individual event. I'm going to stock up on clearance Valentine's Day candy and stream it, and I just want you to know that's an option.