Sponsored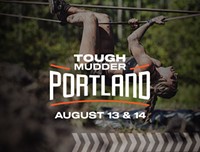 Lock in your summer adventure, Portland. Join us for world famous obstacles over a 5K or 10K distance.
If you watched Mark Zuckerberg's appearance before Congress earlier this month, you might have heard Washington State Senator Maria Cantwell questioning the Facebook CEO about his awareness of a company called Palantir.
Cantwell's first question to Zuckerberg was: "Do you know who Palantir is?
"I do," replied Zuckerberg.
He should, since the founder of Palantir, Peter Thiel, sits on the board of Facebook.
But if you would have answered Cantwell's question in the negative, then you need to read this recent Bloomberg investigation into what Thiel's Palantir does.
For the right price, Palantir helps government agencies, major corporations, and local police departments map out who knows who, and how.
This was helpful to JPMorgan Chase & Co's efforts to essentially spy on its employees (until that spying became an internal scandal). It's been helpful to U.S. military forces fighting the Iraq insurgency. And it's become a go-to tool for law enforcement, with innocent people sometimes becoming victims along the way (simply because their online data seemed to implicate them).
Palantir's software, Bloomberg reports, "combs through disparate data sources—financial documents, airline reservations, cellphone records, social media postings—and searches for connections that human analysts might miss. It then presents the linkages in colorful, easy-to-interpret graphics that look like spider webs."
Basically, it does what Cambridge Analytica did with all that wrongfully shared Facebook data that had members of Congress grilling Zuckerberg for two days. It tries to create an intricate portrait of your actions and desires using the online trail you've left, and then it uses that portrait to help its clients.
While Palantir's primary clients appear to be banks, governments, and police departments, it looks like the Trump campaign and Cambridge Analytica somehow got some Palantir-style help before the last presidential election.
"In March," Bloomberg reports, "a former computer engineer for Cambridge Analytica, the political consulting firm that worked for Donald Trump's 2016 presidential campaign, testified in the British Parliament that a Palantir employee had helped Cambridge Analytica use the personal data of up to 87 million Facebook users to develop psychographic profiles of individual voters." (Palantir told Bloomberg the employee was doing this work on his own time.)
What to do?
Well, one way to rein in all these misuses of your online data would be to have an American version of the European Union's General Data Protection Regulation.
When she was questioning Zuckerberg, Cantwell asked: "Do you believe the European regulations should be applied here in the US?"
"Senator," Zuckerberg replied, "I think everyone in the world deserves good privacy protection."
And Thiel?
Well, back in 2011, according to Bloomberg, he argued that "civil libertarians ought to embrace Palantir, because data mining is less repressive than the 'crazy abuses and draconian policies' proposed after Sept. 11."
That's quite a choice: intrusive data mining or a police state.
But, also, Thiel's not really that into the whole American experiment anyway.
"I no longer believe that freedom and democracy are compatible," Thiel wrote in a 2009 essay.
In the world of Thiel's Palantir, we're all just "people and objects," who, as Bloomberg puts it, "pop up on the Palantir screen inside boxes connected to other boxes by radiating lines labeled with the relationship: 'Colleague of,' 'Lives with,' 'Operator of [cell number],' 'Owner of [vehicle],' 'Sibling of,' even 'Lover of...'"
Sponsored
Virtual Auction Event & Drag Queen Fashion Show. You won't want to miss this show!