Well, that was quick.
Sponsored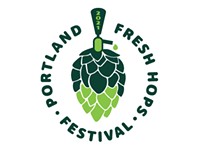 Come celebrate fresh hop season! With over 50 fresh hop beers, there's something for everyone!
This morning, "comedian" Roseanne Barr tweeted something vile and racist—which ordinarily would not be news, except for the fact that earlier this year, the ABC network decided to reboot her '80s/'90s TV sitcom to disturbingly strong ratings. The tweet in question, which has been deleted, specifically insulted Valerie Jarrett, a former senior adviser to Barack Obama. It's so hateful that I don't want to retype it here, but just know that it compared Jarrett, an African American woman, to an ape—which is not only as childish as racist insults get, it's hackneyed and has been done countless times before. It proved, for the umpteenth time, that Barr is, in addition to being a miserable bigot, a hacky and unoriginal comedian.
This was only the latest in a series of garbage proclamations from Barr, who has a long and un-ignorable history as a garbage person. Still, for some reason, ABC decided it was a good idea to rev up Roseanne with its original cast, in an attempt to pander to Trump-era audiences. The show hired some legitimate and worthy talent, including actors Laurie Metcalf, Sara Gilbert, and John Goodman, and behind-the-scenes folks like Wanda Sykes (who quit the show today immediately following Barr's tweet) and Whitney Cummings (who had quit weeks earlier). But the new Roseanne was tainted by the fact that its titular star is a loathsome racist and anti-Semite, with a Twitter feed littered by idiotic right-wing conspiracies and stereotypes too despicable to describe.
So it was GREAT news today when ABC addressed the latest Barr-induced fracas by cancelling her lame show outright. Channing Dungey, who became the first African American woman president of ABC Entertainment in 2016, released a one-sentence statement that said all it needed to say. "Roseanne's Twitter statement is abhorrent, repugnant and inconsistent with our values, and we have decided to cancel her show."
Um, BOOM.
Let's be clear: This is shocking! Not because it's undeserved, but because there were enough morons watching the rebooted Roseanne—which, to be certain, was a bad show—to make it the number-two-rated program in the country. In other words, Barr singlehandedly made a monstrously successful asset so toxic that ABC and its parent company Disney were willing to take a massive hit, and without too much hemming and hawing over it. This is good corporate strategy, and should be lauded and imitated. Some are criticizing ABC for reviving Roseanne in the first place, or for not addressing Barr's hateful nonsense sooner, but Dungey did absolutely the right thing today and she deserves credit for it.
The phrasing of Dungey's statement makes it clear that Barr, and Barr alone, is the reason for the scuttling of the TV show. Although it's a pity that hardworking cast and crew members on Roseanne have lost their jobs as a result of one woman's terribleness (lesson: don't work for shitheels!), there has been much enjoyable schadenfreuding on Twitter following ABC's announcement. Let us take a moment to revel in it before the inevitable right-wing backlash makes us go back to hating all human interaction.
(Also, check out what happens when you go to the official Roseanne page on ABC's website.)
OK, now replace Roseanne with a Living Single reboot and replace Last Man Standing with Martin, and we're good
— Santi Elijah Holley (@SantiHolley) May 29, 2018
Oh God there's no way we avoid a Trump Tweet on this, is there*

*pinned tweet
— James Poniewozik (@poniewozik) May 29, 2018
okay now let's get the NFL cancelled
— Megan Amram (@meganamram) May 29, 2018
We got Roseanne cancelled.

KEEP THAT SAME ENERGY FOR THESE MIDTERMS AND 2020.

We gotta cancel some house seats, governorships, and an entire presidency.
— Brittany Packnett (@MsPackyetti) May 29, 2018
Just take a moment to observe all the things Roseanne had to do to get canceled:

- Call Valerie Jarrett an ape
- accuse dems child sex trafficking
- tell Hillary Clinton to commit suicide
- accuse Chelsea Clinton of being part of a Jewish conspiracy
- call George Soros a Nazi
— Travon Free (@Travon) May 29, 2018
After Roseanne's latest racist remark calling Valerie Jarrett a Muslim ape, @ABC has canceled @RoseanneOnABC.

Roseanne's history of racist remarks and conspiracy theories makes her latest remark unsurprising.

ABC wanted to depict a real-life Trump supporter...and they got one.
— Rantt Media (@RanttMedia) May 29, 2018
Nothing but respect for MY white working-class family sitcom pic.twitter.com/TR8EV2p3HP
— Dana Schwartz (@DanaSchwartzzz) May 29, 2018
if anyone from THE BIG BANG THEORY has some horribly anti-semitic thoughts they want to get off their chest…
— david ehrlich (@davidehrlich) May 29, 2018
Checking in on Whitney Cummings. pic.twitter.com/Jq55DFVYa8
— Robert Ham (@roberthamwriter) May 29, 2018
Victoria Jackson just picked up the phone to make sure there was a dial tone and quickly put it back on the cradle, expecting it to ring any minute.
— Jordan Hoffman (@jhoffman) May 29, 2018