Sponsored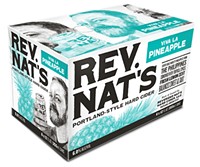 No-fee, same-day delivery of Rev Nat's Hard Cider & Old Town Brewing throughout Portland Metro
For around a decade, Tender Loving Empire has been selling small-batch artisan jewelry, gift cards, snacks, and vinyl records made by local bands signed to their record label, to name just a few items.
But thanks to a detour into the hard stuff, you'll no longer have to make a separate beer run after stopping buy to pick up shot glasses and a Kanye votive, because TLE's three non-airport locations are officially selling local craft beer, cider, and wine from the likes of Reverend Nat's, Gigantic, and Underwood.
To celebrate, all three stores are throwing an 11-day celebration by offering a 25 precent discount on their signature line of glassware. On June 16, the shops are also throwing tasting parties to give you a good idea as to what you'll be filling that glassware with. Those parties last from noon to 3 pm.
Other Beer, cider and wine labels being sold include Buoy, Portland Cider, Dear Mom Red Wine, Cider Riot!, and Bad Hombre. Everything comes in 12 to 22-ounce bottles and cans, outside of a few 750ml full bottles of wine, with costs ranging from $5 to $18.
Oh, and keep in mind, all drinks will be stored at room temperature, so they're all made for consumption elsewhere.
Tender Loving Empire 412 SW 10th | 3541 SE Hawthorne | 525 NW 23rd