Sponsored
Sketch comedy troupes from all over N. America descend on The Siren Theater for 3 glorious nights.
The Sugarpine, out by the Sandy River near Troutdale, has been busting it all summer with its soft serve, sandwiches, and rosé slushies. It's a drive-in, but the patio has been the draw in the hot weather.
The sandwiches are good. Really good. It sounds dull (just look at those ingredients—carrot hummus, cucumber, radish and, yep, greens), but the farm sandwich rose well above the sum of its parts. It was exhilaratingly fresh and rounded off with a snappy walnut yogurt sauce.
The temptation with a pulled pork sandwich ($10) is to pack the thing with as much meat and sauce as possible, so it becomes a big mess that you're trying to wrangle into your mouth as half of it drops into your lap. Not here though. This was a balance of pork and slaw, while the bbq sauce played funky rhythm guitar rather than a screaming solo.
Soft serve flavors are limited, but there should be enough toppings to satisfy sweet-tooth junkies, and sundaes if you want the ready-made version. Adult beverages come in the form of beer, local wine and what is the best frozen rosé slushy around.
There's still enough sun around to enjoy the patio, though I'm told it will be covered in readiness for the rainy season anyhow.
1208 East Historical Columbia River Highway, Troutdale, OR, sugarpinedrivein.com
Sponsored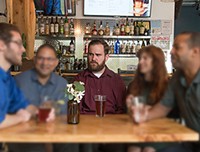 Adults aged 18-35 with good hearing will be paid for their time. Located at the Portland VA Medical Center