Last night marked the beginning of Rosh Hashanah, the Jewish new year that celebrates the arrival of Adam and Eve on Earth by blowing rams' horns, eating circular and sweet Challah bread, and, most importantly, asking for forgiveness.
Sponsored
Sketch comedy troupes from all over N. America descend on The Siren Theater for 3 glorious nights.
For Jews, God's official ledger of sins and transgressions is now open. We have ten days to apologize to those we have wronged and seek their forgiveness before the book is closed on Yom Kippur, the day of atonement. This is the first day of atonement since the #MeToo movement went viral last October and exposed the sexual crimes of powerful men (and they are almost all men) across the world.
Danya Ruttenberg, an American rabbi and author, has a brilliant essay in the Washington Post exploring how Rosh Hashanah offers a path towards forgiveness for Charlie Rose, Louis C.K., and the rest of the sexual exploiters out there. No sin is too great to eventually be forgiven, according to Jewish tradition, although forgiveness is in the hands of the victim and the path foward is hard.
Predictably, none of these famous men have seized the opportunity of true atonement.
Ruttenberg has a particularly enlightening passage about how these men, in a rush to return to the "power-holding limelight that makes abuse so easy to perpetrate in the first place," have failed to truly seek forgiveness.
The perfunctory public apologies that we have so often seen in the wake of allegations could, at best, be considered part of the first step toward repentance, taking ownership of the harm done. But they must reflect a genuine ownership of all actions taken—not "if I did behave then as he describes," as Spacey said; not complaining about the impact on their work (Keillor), fans (Batali) or family (Lauer), with minimal focus on the victims; not minimizing the complaints as Rose did, blaming God as O'Reilly did or guessing what the victims might have thought, as C.K.'s initial statement last year did. Issuing such superficial and narcissistic public statements is the only thing that any of the above-named men have done to signal any sort of repentance process, at least publicly.
Read Ruttenberg's entire essay to better understand one tradition's way of dealing with horrible transgressions.
And then, perhaps, you should atone yourself.
Sponsored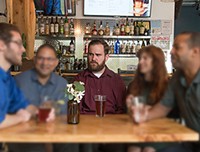 Adults aged 18-35 with good hearing will be paid for their time. Located at the Portland VA Medical Center