Feast got underway last night, ditching its longtime sandwich event for one themed on the '80s and '90s. The Sandwich Invitational had gone rather, er, stale, and its replacement gave chefs a lot more latitude for creativity. Split into two teams, they were tasked with coming up with a dish inspired either by the '80s or '90s. Dressing up was optional.
It was an exercise in nostalgia: Hot pockets were pleasantly reimagined by Maya Lovelace with pimento cheese and smoked ham, while the Holdfast/Deadshot team reminded us of the joys of loaded potato skins. Vitaly Paley's octopus corndog was one of the best bites of the night, though it can be filed under perennial favorite rather than a '90s food.
One of the problems with events of this kind is the long lines. Ridiculously long in the case of Sam Smith of Tusk, as everyone wanted to try his Frito pie with lamb chili and cheese. It was the most amusing dish of the night, and helped the '80s win the competition.
Sponsored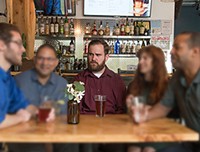 Adults aged 18-35 with good hearing will be paid for their time. Located at the Portland VA Medical Center