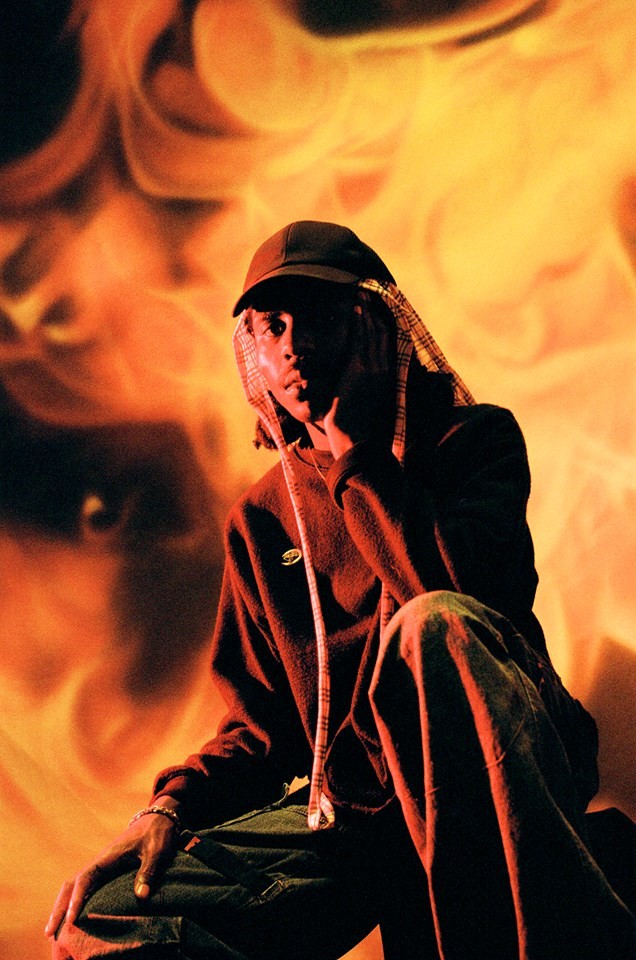 Blood Orange
Though Dev Hynes has written and produced hits for the likes of Solange, Florence and the Machine, Kylie Minogue, and Carly Rae Jepsen, his solo work as Blood Orange has never been all that concerned with chart-topping singles. Over seven years and three albums, Hynes used the Blood Orange moniker to delve into deeper, more delicate, and more personal material. His new record Negro Swan explores themes like the ongoing anxieties of queer and trans folks and people of color, surviving childhood trauma, and what he defines as "Black depression." Negro Swan is a meditative journey through Hynes' most intimate thoughts, sung over minimalist drum beats, mellow guitar riffs, and spaced-out keys. It's less an album of independent and disjointed singles—as so many hip-hop and R&B albums are today—as it is one continuous and slowly unspooling narrative. Lacking such straightforward bops as Freetown Sound's "Best to You" or Cupid Deluxe's "You're Not Good Enough," Negro Swan requires more patience than previous Blood Orange albums, and perhaps more than a couple of front-to-back listens. Its progressive R&B and lush bedroom pop is more ruminative than Hynes' previous efforts, but the result is beautiful, haunting, and brutally honest. With guest appearances by Tei Shi, A$AP Rocky, Project Pat, and Diddy (who lets himself be surprisingly candid), the most important and frequent guest is transgender activist Janet Mock, whose spoken interludes are heard throughout the album, propelling the narrative forward to a triumphant coda. (8 pm, Roseland, $29.50-39.50, all ages) SANTI ELIJAH HOLLEY

---
Feast Portland
If you haven't Feasted yet, you better get on that. Today is the
last day
of this city-spanning food festival specifically for you foodies out there, and there's still a lot to do (and eat), not least of which being the Feast Sunday Tailgate, featuring oysters, lobster rolls, and cold beer. Something for everyone!
Visit feastportland for a full list of venues and times.
(
Various Locations
)
School of Rock Portland: Weird Al
Students from the School of Rock Portland pay tribute the accordion-wielding icon and comedic genius known for his bottomless pit of song parodies. (
noon, Doug Fir, $12-15, all ages
)
Back to School Bingo
Finally! All those rat bastard kids constantly encroaching on your lawn are penned up in our public education institutions! Time to be throwing on a nice sweater, getting that hair did just right, and settling in for a long day of daubing at cards and cursing under your breath as some other schmuck wins all the Bingo prizes you rightfully deserve! Local comedy talents Erin Jean O'Regan and Jed Arkley will call the numbers. (11 am, Siren Theater, $5)
Madeleine Peyroux
Modern jazz culture is alive, vibrant, and still producing greats, one of which is jazz vocalist/songwriter Madeleine Peyroux. (8 pm, Revolution Hall, $49) ROBIN BACIOR
Boz Scaggs
Like mushrooms after rain, vinyl copies of Boz Scaggs' Silk Degrees tend to sprout up overnight in people's record collections. "Jeez, I don't remember buying this," every record collector has said at one time or another, suspiciously eyeing the iconic album cover with Scaggs on a park bench looking either drunk or dejected as a manicured lady hand suggestively reaches into frame. The former Steve Miller Band guitarist's blockbuster 1976 album is a swankfest from bygone days, a surprisingly ambidextrous collision of string-laden R&B, gently discofied beats, singer/songwriter introspection, and Springsteen-esque bar-band bravado. And its two hit singles couldn't be more different: "Lowdown" was, probably, sexy for its time, with its Barry White groove and burning-cool jazz flute; nowadays it sounds immeasurably creepy. But "Lido Shuffle" has a McCartney-worthy melody, a Thin Lizzy quick-shuffle rock beat, and the soaring sing-along chorus of your karaoke dreams. Scaggs has apparently recorded dozens of other albums that you've never heard, and presumably he'll play songs from some of them tonight, but expect those Silk Degrees jams to be the meat of the set list. (7:30 pm, Arlene Schnitzer Concert Hall, $59.50-79.50, all ages) NED LANNAMANN
John Kerry
Son of a Diplomat, Vietnam Veteran, Senator, Presidental nominee, Secretary of State, and now memoirist with Every Day is Extra, John Kerry visits Powell's to read from his new book, and tell stories about his extraordinary life. Admission includes a hardcover copy of the book. (7:30 pm, Powell's City of Books, $35)
Don't forget to check out our Things To Do calendar for even more things to do!