One of the key components of Feast is the dinner series. I was lucky enough to attend the Bon Appétit Hot 10 dinner, which highlights chefs from around the country who have been on the magazine's best new restaurant list.
The Hot 10 is one of the more interesting 'best of' lists as it tends to avoid hype and celebrity in favor of places with passion and talent that are under the radar. The selection is the personal choice of Andrew Knowlton working with deputy editor Julia Kramer. I spoke to Bon Appétit editor in chief Adam Rapoport who explained they "want to highlight emerging chefs who haven't had a ton of attention but deserve it," adding, "It's a critic's list, it's subjective."
The dinner is always a hot ticket and sells out almost immediately. Given that chefs were coming in from LA, San Francisco, Chicago, and New Orleans, it's not surprising that the menu was inconsistent, bouncing around from shrimp toast, to hot and sour tomato soup, to a bologna sandwich, and BBQ ribs.
Flavors were good everywhere—my favorite bite was Brandon Jew's tender and tasty char siu BBQ pork, and I liked the playfulness of Mason Hereford's bologna sandwich. Some dishes, though, felt underwhelming given the special nature of the dinner, not to mention the price tag of $195 (on that note, I love A to Z who were the wine sponsor, but I'd expect something more prestigious for the $$$). Still, it was a great opportunity to try the cooking of an intriguing group of chefs, all without racking up the air miles.
Sponsored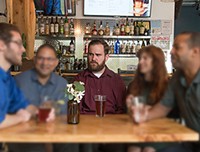 Adults aged 18-35 with good hearing will be paid for their time. Located at the Portland VA Medical Center