Sponsored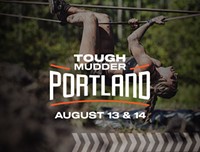 Lock in your summer adventure, Portland. Join us for world famous obstacles over a 5K or 10K distance.
Another thing to love about Portlanders? We love to get all up in our FEELINGS. Here are a few of the letters we received in the past couple of weeks, most of which are in reaction to the Mercury switching to a biweekly format while making a few other changes along the way.
Jeez New Merc,

No plain old " feedback contact" email option? Anyhow, just finished thumbing thru the re-vamped paper and all I really noticed were larger ads... and seemingly MORE of them! Likewise, and you may have mentioned prior but... no 'letters' section anymore!? No ' I Anonymous'?! Those were really the only two things I enjoyed about your paper. What with the awkward new oversize issues, I guess I can finally give up on you.

Matt C
WM. STEVEN HUMPHREY RESPONDS: Our email contact is the same as it ever was (lovenotes@portlandmercury.com) which is also conveniently located in the "Contacts" section at the bottom of our website, where information of this sort is almost always located within every website ever constructed by humankind. (Dial it back, Steve... dial it back.) In the current print edition, we do have some large ads, which go a long way toward paying our employees a living wage. Do you not expect to get paid for the work you do? (Eaaaaaasy, Steve... eaaaasy.) In my new column (Wm. Steven Humphrey's Adventures in Newspapering) I'll be answering some of the more interesting letters we receive—but to answer your question, yes, there still is a letters section... YOU'RE READING IT RIGHT NOW. (Okay, Steve... okay... deep breaths.) YES, there is still an I, Anonymous, we moved it to page 5 to give it better placement AND there's also the daily I, Anonymous blog AND there's the live I, Anonymous Show AND there's the I, Anonymous podcast! SO YES, MATT C, YOU FUCKING DUMMY, I GUESS YOU CAN SAY THERE'S STILL AN "I, ANONYMOUS." (Damn it... but in my defense, Matt C really is a fucking dummy.)
If the @portlandmercury actually had any balls, and wanted to be counter-culture rather than dominant-culture for a change, they would hire a conservative columnist.
— Ron (@No_Groupthink) September 12, 2018
WM. STEVEN HUMPHREY RESPONDS: Congratulations, Ron! You're getting your wish. Be on the lookout for our next issue (hitting the streets on Thursday, September 27) in which we're introducing our newest "conservative columnist"... FRANK CASSANO. (Trust me when I say, you will regret your wish.)
People also said their goodbyes to the much beloved Ann Romano (and her column "One Day at a Time") who retired after 18 years of meritorious, gossipy service. She is survived by the Ann-recommended Elinor Jones and her hilarious new gossip column "This Too Shall Pass." Check it out here!
This is a note for Ann Romano to say: you are fabulous and amazing and your voice will be dearly missed on One Day At A Time! You and Dan Savage are pretty much the entire reason I pick up a Mercury every week. Hoping whatever's next for you is bigger and better than ever before.
Sincerely one of your dears,
Ian
OMFG! So it ain't so! What are we going to do without Ann Romano's wonderful weekly wit? Ann! We love you. Please don't go. Thank you.
Your friend, Houston
Every week I read your work and laughed with glee. How am I gonna get through the Trump years without you? We never got high. PM me if you need reefer
Your FAN FOR LYFE,
RB
And finally, we also learned this past week that people can have very different opinions on the same subject. To wit: My career as a writer.
Humphrey: You are a dreadful writer! Please stop.
Kevin
To Wm. Steven Humphrey:
Please, you make me laugh. Write weekly, please.
Delegate what you do now.
Albert
Since those two votes cancelled each other out, I suppose I'll stick around for another issue or two? Thanks for all your words (kind and otherwise), and please keep sending your feedback to lovenotes@portlandmercury.com, or really, ANY of the email addresses in our very easy to locate "Contacts" page on our website. Which once again is right here, Matt C... YOU FUCKING DUMMY. (Ungggh. Sorry, I promise I won't treat the rest of you like that fucking dummy Matt.)
Sponsored
Virtual Auction Event & Drag Queen Fashion Show. You won't want to miss this show!