In the final trailer for David Gordon-Green's upcoming sequel to this film, the voice of Jamie Lee Curtis dramatically intones through whispery reverb that "40 years ago, on Halloween night, Michael Myers murdered three people."
The statement comes off as oddly comical now, after four decades under the Shape's hulking shadow, with thousands of bodies strewn across the sordid history of a genre he elevated to prominence—three seems like child's play. (Hell, Child's Play racked up a bigger body count.) But in John Carpenter's breakout film, the weight of those three deaths feels heavy indeed. Halloween is considered the father of the slasher, but Carpenter's film maintains its power because it doesn't really slash that much. It simmers, and stares, and slowly glides into menacing situations and abandons you there until the shadow of Michael Myers swallows you right up. That sort of thing seriously fucked people up in 1978. It still works pretty damned well in 2018.
Halloween, Sat Sept 22, Hollywood Theatre, followed by a Q&A with star P.J. Soles
Read more of the Mercury's award-winning* movie and TV coverage here!
*not actually award-winning
Sponsored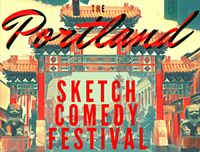 Sketch comedy troupes from all over N. America descend on The Siren Theater for 3 glorious nights.