In an appearance today at the Today Show plaza, NKOTB announced their "Mixtape Tour," a 53-city venture that will include hip-hop acts Salt-N-Pepa and Naughty by Nature, as well as '80s pop singers Tiffany and Debbie Gibson. The "Mixtape Tour" begins this May, and will stop in Portland at the Moda Center on June 2.
Sponsored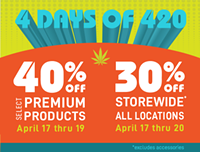 30-40% off Premier Dispensaries April 17-20
Flower, pre-rolls, edibles, carts and more.
These 4 Days of 420 are for you.
NKOTB also dropped a surprise throwback song and video today called "80s Baby," which features all their billed touring partners, and some seriously nostalgic imagery to match.
While I just missed the boat for enjoying NKOTB (by the time I liked boybands, Jordan Knight and Joey McIntyre had already recorded their solo albums), and have never even heard of these Tiffany or Debbie Gibson people, I can definitely see myself attending this show.
Seeing legendary NYC hip-hop trio Salt-N-Pepa perform classics like "Shoop," "Whatta Man," "Let's Talk About Sex," "None of Your Business," and "Push It" is kinda on my bucket list.

And obviously, it would be dope to catch East Coast hip-hop group Naughty by Nature rock-out their first major hit, 1991's "O.P.P.," their career-defining single "Hip Hop Hooray," and "Uptown Anthem," from the Juice soundtrack.

Tickets go on sale this Friday, October 12 at Ticketmaster.com.