Back in August of 2017, after Heather Heyer was killed during the white supremacist rally in Charlottesville, Virginia, the web hosting and domain service GoDaddy abruptly ended its business relationship with a white nationalist website called the Daily Stormer.
Sponsored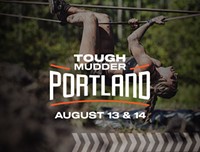 Lock in your summer adventure, Portland. Join us for world famous obstacles over a 5K or 10K distance.
Given that the Daily Stormer had been in the news since December of 2016 for urging action against the Jewish residents of Whitefish, Montana on behalf of white supremacist Richard Spencer, I asked in August of 2017: "Why did someone have to get killed before GoDaddy severed ties with the Daily Stormer?"
Today, amid reports that the man who allegedly killed 11 Jews inside a Pittsburgh synagogue on Saturday was a regular Gab user, one must also ask: Why did people have to get killed before GoDaddy severed ties with Gab?
Gab, according to the New York Times, was, until this weekend, the place where one could still find the writings of the founder of the Daily Stormer, as well as Richard Spencer and "a crowd of extremists, including white nationalists and neo-Nazis, who had been banned from other social platforms."
Before he allegedly committed mass murder inside the Pittsburgh synagogue on Saturday, the accused mass-killer ranted on Gab about "invaders" supposedly brought to America by Jews and then wrote, "I'm going in."
Not too long after the killings and the Gab connection were reported, GoDaddy gave Gab 24 hours to find another service.
Online payment services like Stripe and PayPal also stopped doing business with Gab—although, according to the Daily Beast, those payment services had been warned months before about "incitement to violence on the website" but failed to drop Gab then.
Before Pittsburgh, other companies took the menacing nature of the Gab conversations more seriously.
As Fortune noted, "before the shooting, Apple and Google had already prevented Gab from distributing its app in their app stores, and Microsoft had threatened to stop hosting Gab's website over anti-Semitic posts this summer."
So, again: Why did people have to get killed before GoDaddy severed ties with Gab?
I asked a spokesperson for the company but have not yet heard back. I'll provide an update if I do.
Sponsored
Virtual Auction Event & Drag Queen Fashion Show. You won't want to miss this show!