Stay up to date on Portland news and politics. Looking for fun? Here are the best Things to Do in Portland today.
Sponsored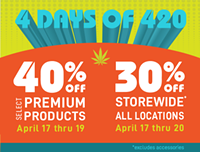 30-40% off Premier Dispensaries April 17-20
Flower, pre-rolls, edibles, carts and more.
These 4 Days of 420 are for you.
GOOD MORNING, PORTLAND! IT'S HALLOWEEEEEEEEEN!
OOOoooOOOOOoooohh!
The bats have left the bell tower. The victims have been bled.
Red velvet lines the black box.
LET'S GO TO PRESS.
It's SIX MORE DAYS UNTIL THE MIDTERMS. OOOoooOOOOOoooohh! And the Republicans are starting to sweat that Trump's batshit crazy racist lie-rants are hurting their election chances. And while the GOP is still focusing on harmless caravans to rile up their base, Democrats are hammering two topics: Health care and Trump's corruption. (Meanwhile, Oprah Winfrey is doing her part by hitting the campaign trail for Georgia's Stacey Abrams.)
Yesterday Trump showed up—uninvited—to the Tree of Life Synagogue following Saturday's anti-Semitic massacre. Local officials refused to join him but the president was met with protests, because of all the blood on his hands.
You know it's bad news for Trump when Kellyanne Conway's husband writes an op-ed for the Washington Post saying that the president's plan to end birthright citizenship is stupid.
pic.twitter.com/1kUy9SHMYh
— H.L.K-S (@EvaMcGreggor) October 31, 2018
A plot hatched by two right wing conspiracy theorists who offered to pay women to say they'd been sexually assaulted by Special Counsel Robert Mueller has backfired and exploded spectacularly in the idiots' faces.
Oh, and speaking of Mueller (who we haven't heard from in awhile), the special counsel is currently investigating Roger Stone about his interactions with top Trump campaign staff and Wikileaks in regards to the leaked Democrat emails.
Today in "Shut Up, Kanye": OH SHUT UP, KANYE.

My eyes are now wide open and now realize I've been used to spread messages I don't believe in. I am distancing myself from politics and completely focusing on being creative !!!
— ye (@kanyewest) October 30, 2018
The Oregonian is still furiously backpedaling from the despicable opinion piece/love letter to Patriot Prayer shithead Joey Gibson, and today published a backpedaling editorial to explain their actions. My response to their response? NOPE, NOPE, NOPE.
According to the Oregonian, Kate Brown is holding on to a slight lead over Knute Buehler in the race for governor... NO THANKS TO THE OREGONIAN NEVER FORGET.
A disturbing new report reveals that nearly 80 homeless people died in Multnomah County last year. "I'm going to quote you some numbers, but everyone knows that the numbers are individuals," said Paul Lewis, the Multnomah County health officer. "Seventy-nine people... it's like having a large overnight shelter collapse."
White women calling the authorities on Black people for little to no reason have been becoming "internet famous" lately (see BBQ Becky and Permit Patty), and now Portland has one of our own: Crosswalk Cathy.
Oregon's Independent candidate for governor Patrick Starnes has dropped out of the race, and thrown his support behind Kate Brown AND SO SHOULD YOU! Reminder to vote, vote, vote and if you need assistance, check the Mercury's (very trustworthy) Election Endorsement Cheat Sheet!
Following the shooting of Jason Washington by PSU security, the university held a listening session yesterday to hear concerns from students and parents, who are skeptical of the recently hired security consultant due to his background as a former cop. The Mercury's newest reporter, Blair Stenvick, reports!
Now let's look at this SPOOOOOOKY WEATHER OOOoooOOOOOoooohh: A wet day with a high of 58 should turn into a dry evening for all you trick or treaters!
And finally, OH SHIT! SKELETONS!!!