Save the date! Portland's 2019 World Naked Bike Ride is June 29th!
Sponsored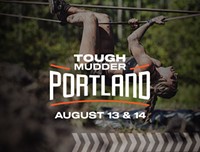 Lock in your summer adventure, Portland. Join us for world famous obstacles over a 5K or 10K distance.
From bikeportland.org who annonced the date:
Far from a fringe bike ride, Portland's World Naked Bike Ride has become a legitimate — dare I say, mainstream — event.

The ride turns 15 this year. And just in case you want to mark your calendar, organizers say June 29th is the date of the 2019 edition.

What started as a somewhat renegade affair with just over 100 riders in 2004, the ride now draws around 8,000 to 10,000 people, all of whom show up in varying levels of nudity (the ride's motto is "Bare as you dare").
Here's a few things you'll need to know about how to prepare yourself to be naked on a bike in a crowd of 10,000 (this piece is from 2017, but not much changes except the time and location of the ride).
Sponsored
Virtual Auction Event & Drag Queen Fashion Show. You won't want to miss this show!