The Oregon Legislature will consider at least seven bills that aim to tighten gun control and increase gun safety during the 2019 legislative session, which kicks off next week. If passed, these bills would require firearms be securely stored when not in use, mandate firearm safety classes in public schools, and make people obtain a firearm permit before purchasing a gun, among other things.
Sponsored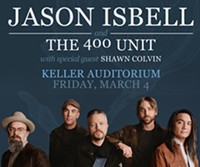 Jason Isbell has established himself as one of the most respected songwriters of his generation. Don't miss Jason Isbell and the 400 Unit, March 4th at Keller Auditorium!
This wave of gun-related bills comes less than a year after local gun control advocates attempted—and failed—to place two gun safety measures on the 2018 ballot. Those potential measures would have banned the sale of assault weapons and high-capacity magazines in the state, and required gun owners to securely store their firearms when not in use, or face being held liable for any crimes committed with their guns.
The Oregon Supreme Court blocked both measures from the ballot, after they were challenged by the National Rifle Association and Oregon-based gun advocacy groups.
Backers of those ballot measures later formed the nonprofit State of Safety Action, and are backing House Bill 2505, which will require that gun owners secure their firearms with a trigger or cable lock and lock them in a safe container when not in use. The bill, sponsored by Northeast Portland Rep. Barbara Smith Warmer, is named the Cindy Yuille and Steve Forsyth Act, after two victims of the 2012 Clackamas Town Center Shooting.
"We still have not passed any laws in Oregon that still might actually prevent a shooting like the one that happened at the Clackamas Town Center," said Cindy Yuille's daughter, Jenna Yuille, at a press conference last year.
Two bills introduced this legislative session concern the minimum age for obtaining a gun in Oregon. Senate Bill 87, which was filed at the request of former BOLI Commissioner Brad Avakian, would raise the minimum age for buying a gun in Oregon from 18 to 21. House Bill 2251, introduced at Governor Kate Brown's request, would prohibit the transfer of a handgun or assault rifle to anyone under age 21.
House Bill 2705 would create a "Do Not Sell" list of people that gun dealers could not sell firearms to—but the list would be entirely voluntary, meaning it will only include individuals who ask to be added to it. There have been similar bills introduced in other states, including California, that aimed to allow people who have experienced mental illness or suicidal thoughts the chance to voluntarily remove their ability to obtain a gun.
Other gun control bills introduced this session include Senate Bill 501, which would require all Oregonians to secure a permit before purchasing or receiving a firearm; Senate Bill 5, which holds shooting ranges and their patrons responsible for any bullets that stray outside range boundaries; and House Bill 2287, which would allow school districts to teach gun safety to students.
There are also a few bills on this session's docket that would loosen gun restrictions in the state. Senate Bill 322 would give county sheriffs the power to issue concealed handgun licenses to residents of neighboring counties, while Senate Bill 323 would allow people who have concealed handgun licenses in other states to also have concealed handgun privileges in Oregon. Both bills are sponsored by Republican Senator Kim Thatcher.